By now you've probably heard about our exciting event, Confetti Live. However, if for some reason you haven't, we're here to make sure you're up to speed. We've put together five solid reasons why you, your 'maids, gal pals, mam, and mother-in-law shouldn't miss out.
WHERE IS IT?  The Morrison Hotel, Dublin on Sunday the 14th of October, from 11:30am-6pm.
WHAT IS IT? An exciting, interactive live show and gorgeous girly day out, with all the benefits of a boutique wedding fair experience... Welcome to something completely different!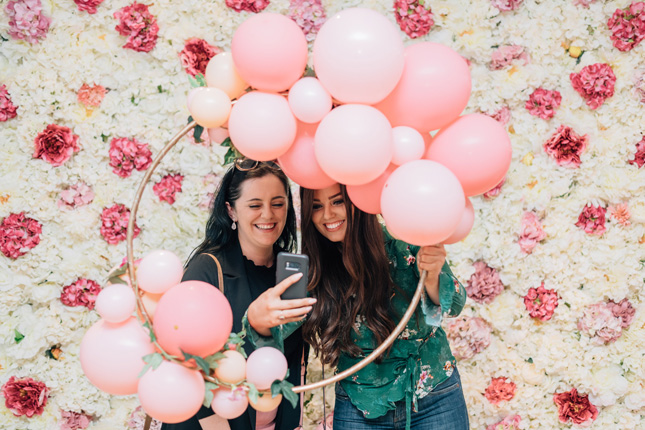 1. A pre-hen, hen
So, you've just been informed that some of your mates can't make your hen party. Don't panic just yet, we have the solution. Gather your gal pals and come along to Confetti Live - the perfect alternative. Or better yet, make a weekend of it and turn your pre-hen into your actual hen. We (pinkie) promise to give you a fun day out, full of treats and surprises!
2. Bridesmaids proposal
Are you struggling to figure out a way to ask your friends to be in your bride tribe? Well, what better way than to propose with a ticket to Confetti Live? Your 'maids will love the gesture and it'll be a lovely memory of the build-up to your wedding.
3. Mother/mother-in-law bonding sesh
Now, this isn't just an event for your gal pals and bridesmaids. Why not invite your Mam or Mother-in-Law along as a little bonding day before your wedding? From Mother of the Bride/Groom fashion to key beauty tips, there's plenty for the mammies too, you know. We bet they'd jump at the chance to accompany you and help plan your big day.
4. It'll be jam-packed
As we've said before, this isn't your regular run-of-the-mill wedding event. On the day, you will be treated to a beautiful bridal runway show featuring stunning wedding gowns, bridesmaids and mother of the bride/groom fashion. There will also be an interactive 'Loose Women' style Q&A panel discussion with some of the leading wedding experts in Ireland. Get yizzer burning questions ready.
We've got bridal beauty covered with demos and top tips from Xposé reporter and makeup artist to the stars Nadine Reid and celebrity hairstylist and social media star Ali Dee! Jennifer Rock (AKA The Skin Nerd) will also join us on stage to chat all things bridal skin-prep. Also, The Skin Nerdettes will also be there on the day giving mini skin consultations - yay!
A second interactive element - our Been There Bride panel will see stylist Lesiele Juliet, journalist Aisling Keenan, Waxperts' Ellen Kavanagh and owner of Nima Brush, Niamh Martin tell us what they'd do differently, given the chance. And for our wedding fair element - visit the 'wedding village'. You'll get to meet and mingle with the best in the business and who knows, you might just meet your wedding A-team! But that's not all, guests will also enjoy the tastiest treats and bubbling Prosecco that The Morrison has to offer on the day. Yum!
5. Oh, did we mention the goodie bag?
And if all of the above wasn't enough to tempt you, as well as experiencing a wedding event like no other, you will also receive a goodie bag worth a whopping €150! Yes, you read that right, €150! We're gifting you plenty of treats including products from Benefit, YourGoodSkin, Imedeen, Catwalk HQ Tan, Waxperts, BPerfect, PS...Beauty, treats from the Treat Boutique, Fulfil, Malteasers, Ballygowan and much more. Plus, included in every goodie bag will be a copy of our best-selling book, The Wedding Planner and our award-winning magazine, Confetti's winter issue and 25 Irish Weddings annual.
A limited number of tickets are on sale NOW - get 'em while they're hot!

Gather your 'maids and mam, this is the ultimate pop up wedding experience you've been waiting for! 💞🙌 Nab your tickets quick >>> https://www.confetti.ie/confetti-live/introducing-confetti-live-37257

Posted by Confetti Magazine on Tuesday, September 25, 2018