Looking for an awesome wedding chair? This wedding DIY will be right up your street!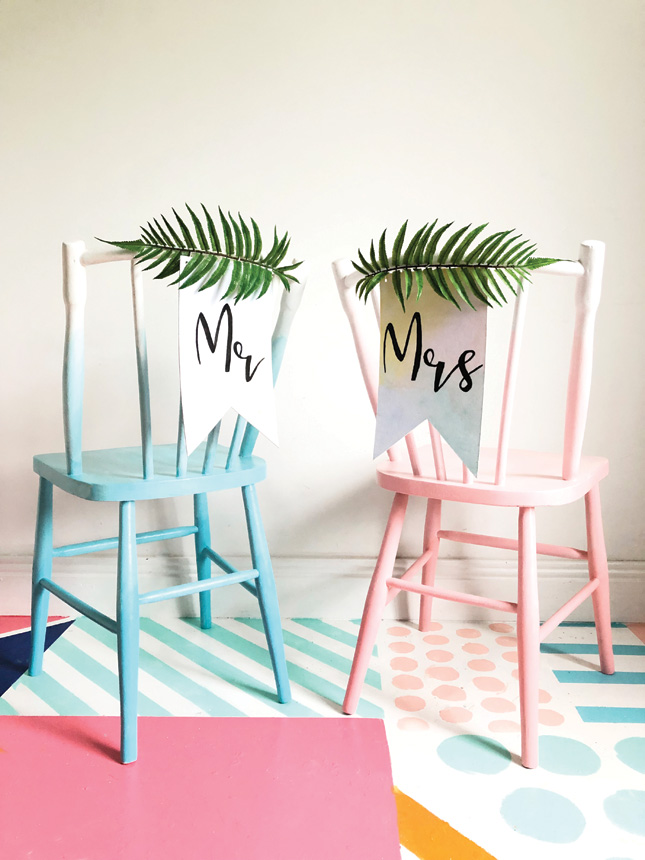 Upcycling queen, Joanne Condon shows us some more wedding DIY. This time it's in the form of these super cute ombré chairs. For your ceremony, all your guests are going to be looking in the direction of where you are sitting. It's an often missed décor opportunity – well, not today. These ombré painted chairs are a cost-effective way of adding your personality to your wedding.
What you will need:
Two old chairs ( I picked mine up in a charity shop for €5 each)
Sugar soap and a cloth
Tack cloth
Sanding block (medium grade)
Primer (I used Tikkurila Otex)
White furniture paint (Again, I used Tikkurila
Pink furniture paint (I used Tikkurila in Deadly)
Blue furniture paint (I used Tikkurila in Smurf)
Four small jars
Mounting card and some watercolour paint
A black marker
A puncher and twine
Method for chairs:
1. Prepare: Clean down the surface with sugar soap by spraying it on the chair and letting it sit for a minute to lift any dirt and grime. Then, with a lightly dampened cloth, wipe the chair clean.
2. Sanding: It's really important to sand your surface before you prime. Scuff the surface with a medium grade sanding block in the direction of the grain. You don't have to remove the layer of varnish, scuffing is sufficient. Hoover and wipe the chair with a tack cloth to remove any dust left over from sanding.
3. Prime: The secret to the durability of your piece is in the priming. A good primer will set the base for a long-lasting finish. Paint a coat of primer all over the chair, but make sure you don't have too much paint loaded on your brush. Repeat for the second coat of primer and leave it to fully dry.
4. Mixing: With the white, paint fill one-third of one jar and two-thirds of another jar. Top up the jars with blue paint and mix to get different shades.
5. Painting: Mark the chair in four sections, and paint the end section in blue paint from the tin. Paint the next section in the next darkest shade you mixed and then the next in the lighter mixed shade, followed by white. Paint as close as you can to the joining lines, don't worry about these too much. Repeat the steps for the pink chair. Leave to fully dry.
6. Blending: On your second coat, paint again roughly to the edge of the joining line. Then, with a dry brush, blend the colours on the lines – first horizontally and then vertically until the colours are blended seamlessly. Leave to fully dry.
Method for signs:
1. Cut the flag style shape using a ruler and blade. You can make these to any size you'd like. With watercolour paints, blend a few colours freely in sections on the flag. You can theme these to your wedding.
2. Wait for the paint to fully dry. Print out a Mr & Mrs (or Mr & Mr/Mrs & Mrs) template. Place it onto the flag and lean on your pen whilst tracing the lettering. The line will be visible and easy to fill in with a pen and a marker.
3. Punch two holes at either side and tie into the back of the chair. You could then add fresh flowers or foliage if you wish.
Joanne's top five tips when shopping for old furniture:
1. Hunt: Have your eyes wide open when you're looking for old furniture. There are loads of second-hand furniture shops or charity shops all over the country. Visit these regularly as stock tends to change very quickly.
2. Look for a sound structure: Make sure that the piece isn't wobbling or flimsy. If it is rickety or loose it will need a lot of extra TLC. And, if you are unable to do light carpentry work, this may be an extra cost you'll have to factor in.
3. Stay away from woodworm: Yes, it is totally treatable but it will slow down your project. It'll need to be treated correctly in order for it to be effective.
4. Haggle: Second-hand furniture shops are always open for a small bit of haggling. Sometimes, if you gather a few items, you may be able to get a discount on the lot. It's worth an ask – the worst thing they can say is no.
5. Visualise: Some older pieces of furniture are of incredible value. With loads of different eras to choose from, you're more than likely going to able to get something to suit your style. Visualise it in a variety of colours and styles, and imagine where you might use it.