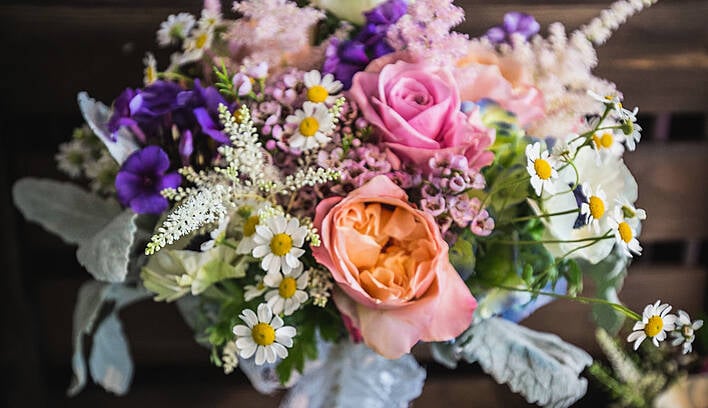 On the hunt for beautiful wedding flowers? You're in luck, because Ireland has a wealth of talented wedding florists to chose from. No matter what part of the country you're getting married in, they'll be on hand to create bespoke bouquets, awesome aisle adornments and fabulous floral arrangements for your venue. Here, we asked some of the best to tell us about their work and show us what they're made of.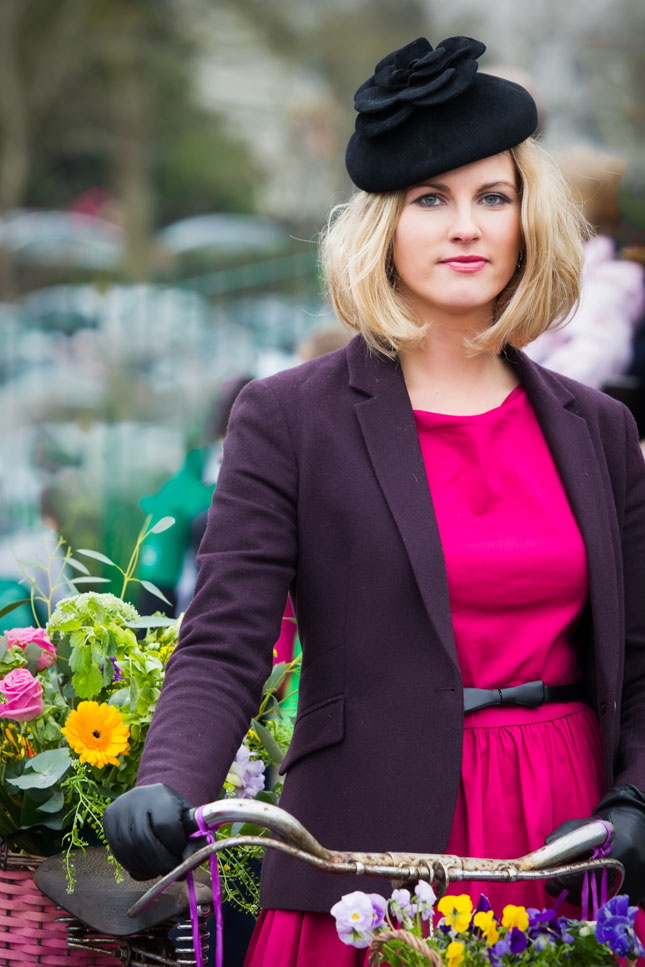 The florist: Kristine Golubovska of Floral Essence
The flowers: "A Bridal bouquet showing nuances of sugary pink tints with an aura of light orange and hint of green. A selection of summer flowers - soft pink astilbes, white anemones, matricaria, blushing vezuva roses, aqua roses, purple phlox, pink wax flower, hyadrenga and maritima leaves."
Why they're my favourite: "I love to work with colour and see how different shades of flowers complement and lift each other. The bouquets have a lot of colour, but are also delicate and reflect season in which they were created."
My style: Shabby chic, rustic, unique
Find me here: floralessence.ie Facebook Instagram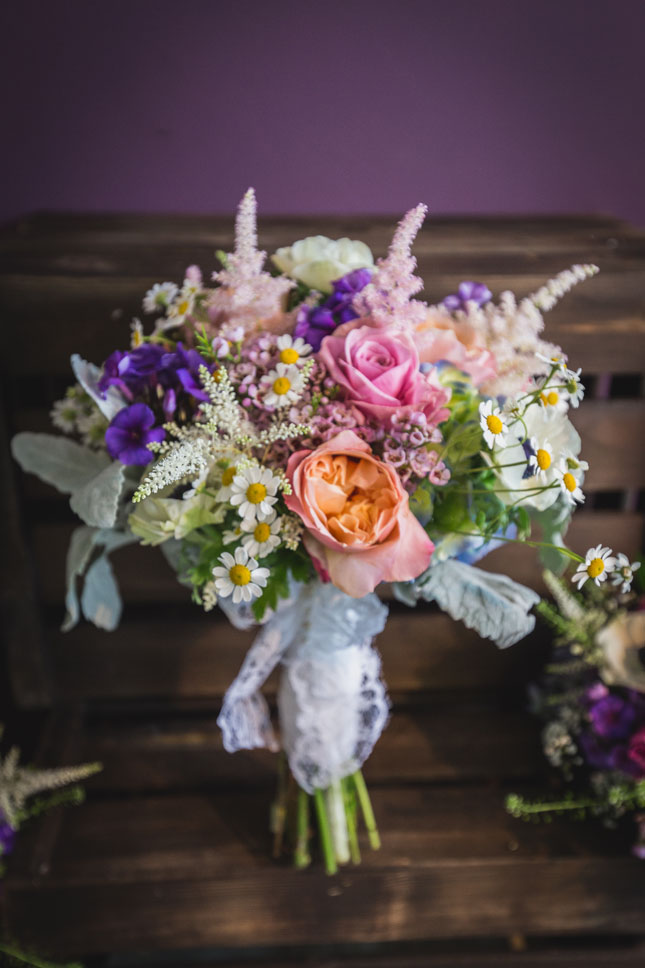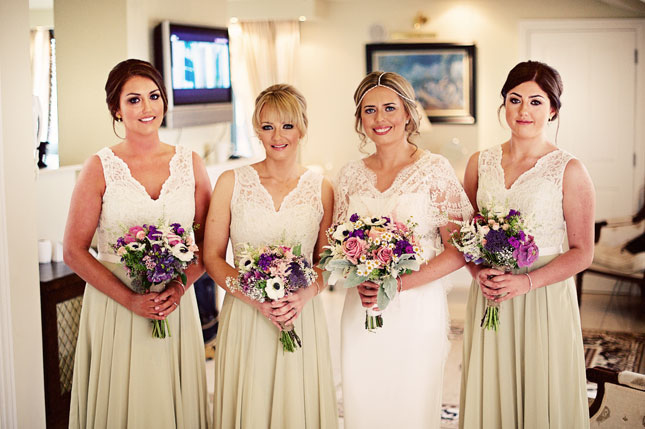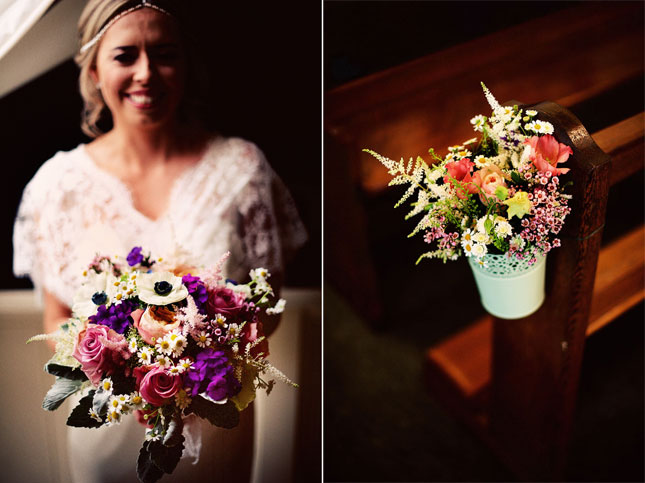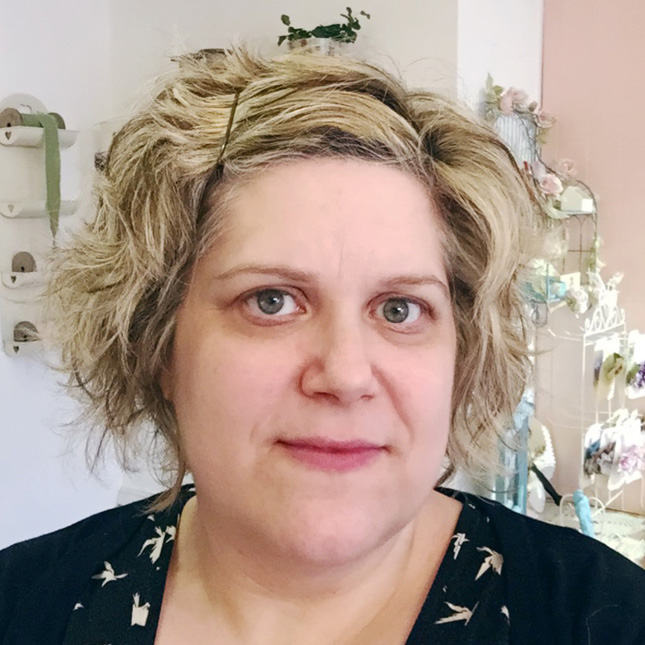 The florist: Jesse Sommers of Bloomsday Flowers
The flowers: "The bouquet is a loose, rustic posy of autumn winter flowers, including burgundy and blush roses and spray roses, eryngium, hypericum berries, alstromeria, and foliages including grasses, oak leaves, and eucalyptus.
My style: Seasonal, natural, beautiful.
Find me here: bloomsday.ie Facebook Twitter Instagram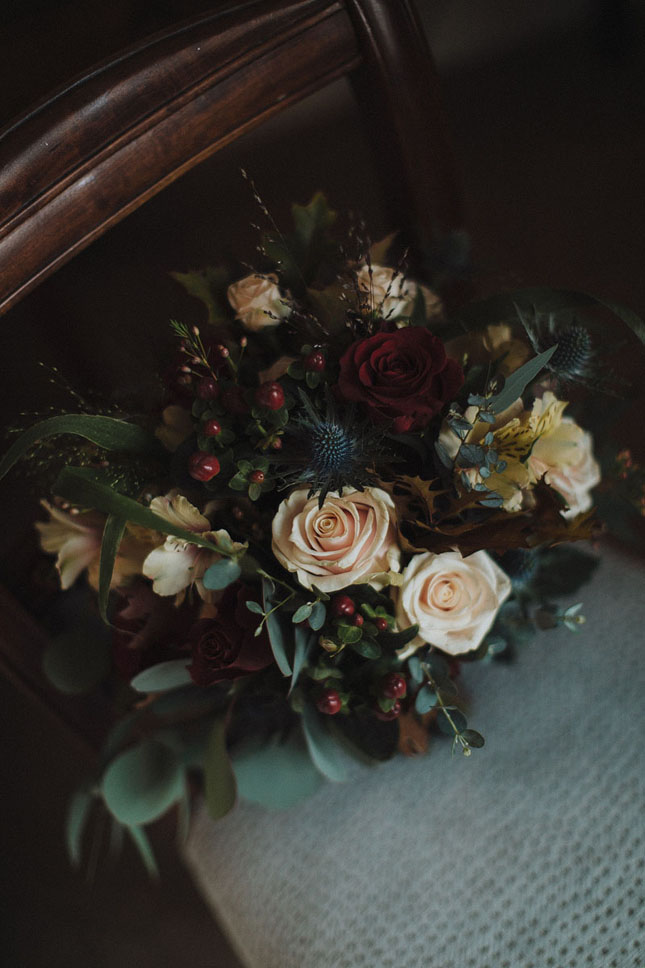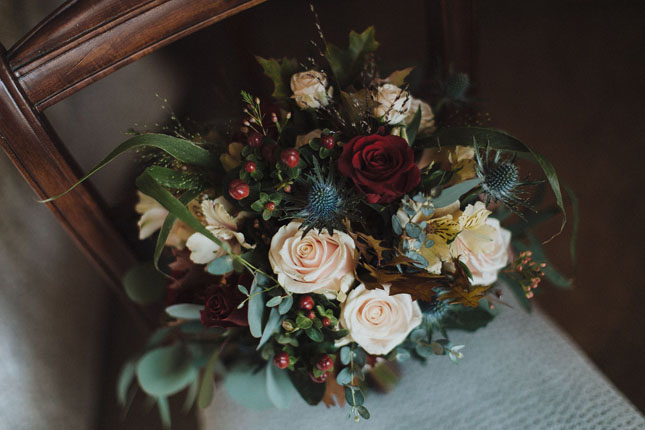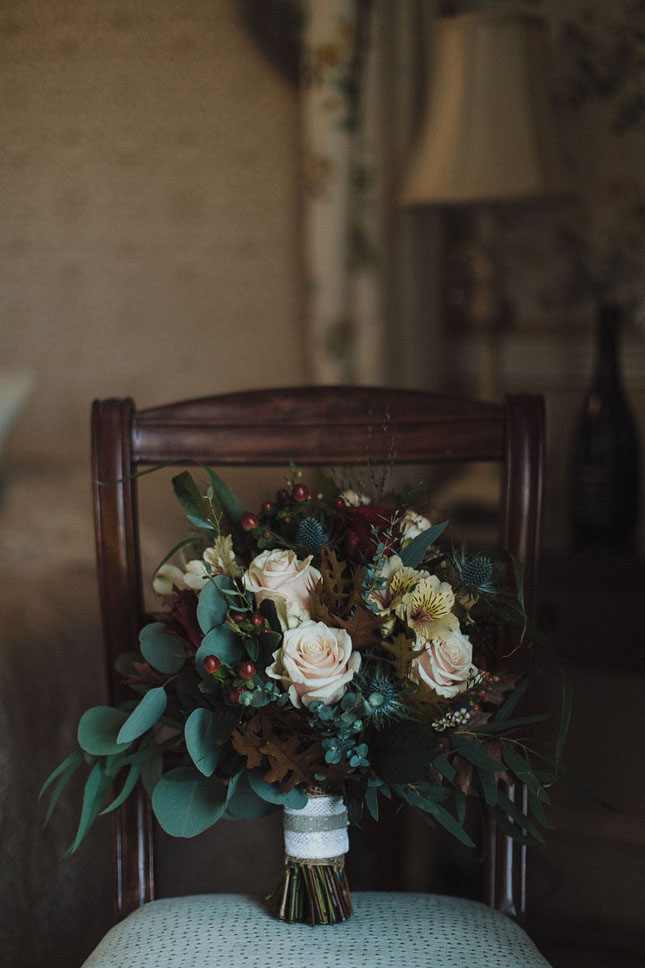 Images above: Pawel Bebenca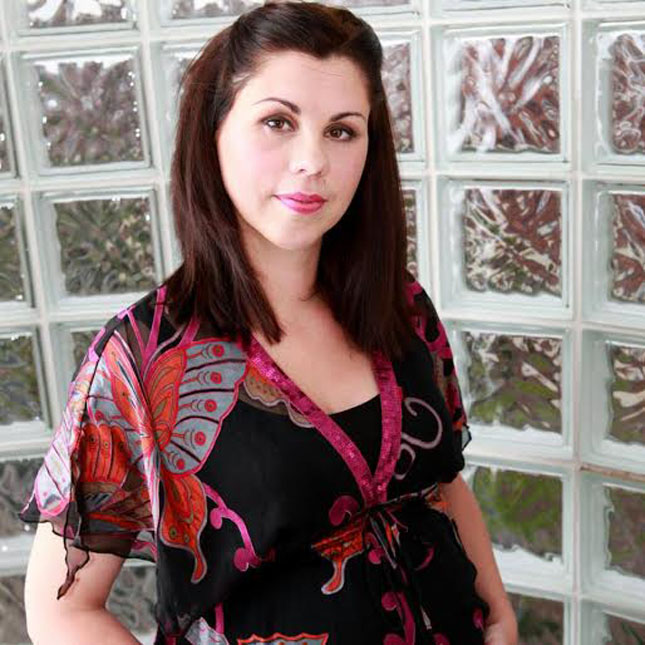 The florist: Judi Roche of Balla Florists
The flowers: "Flowers in the last year rooted themselves in the natural - lots of loose foliage and lush blooms, such as Hydrangeas, peonies, David Austin Roses and of course Babies Breath lead the way right through the year.
Why they're my favourite: "I have a love for all things natural. I just love flowers - they express romance and are timelessly chic. I love sweet scents, stunning colour palettes, delicate petals and luscious foliage."
My Style: Natural, full and bountiful
Find me here: Balla Florists Facebook Twitter Instagram Pinterest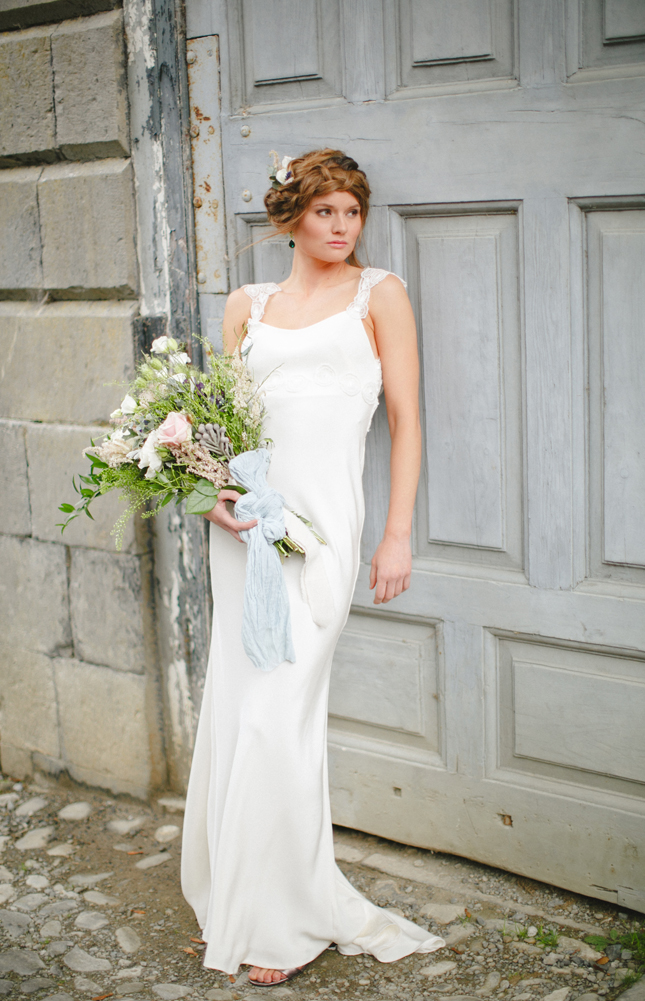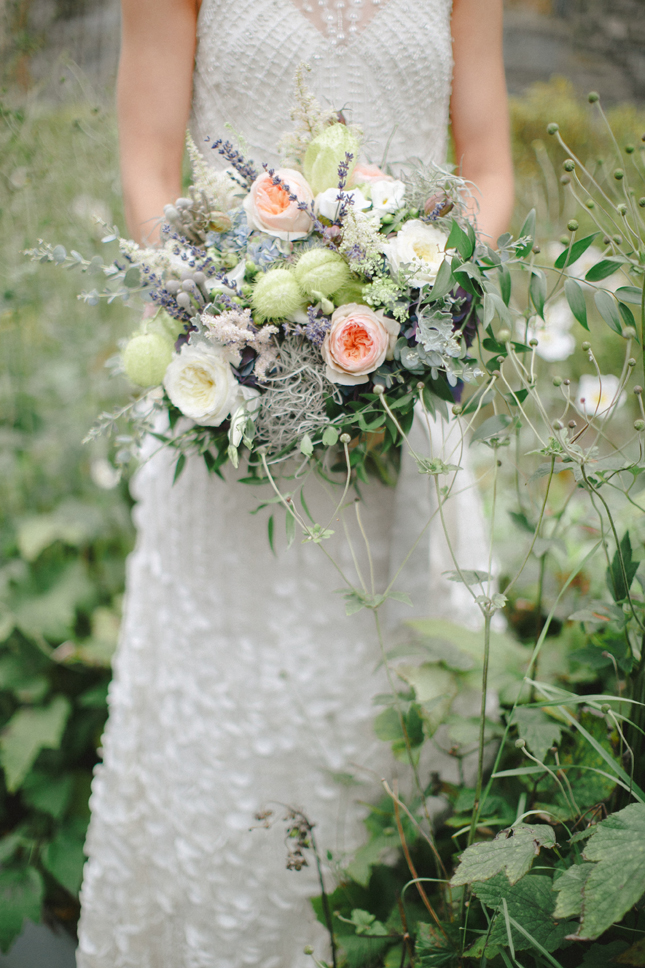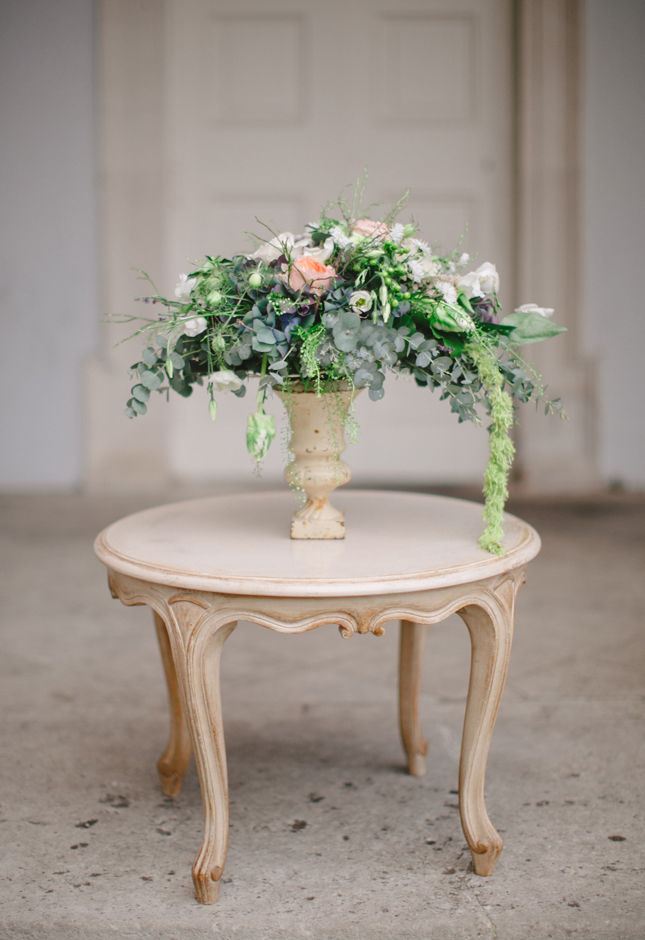 Images above Adam & Grace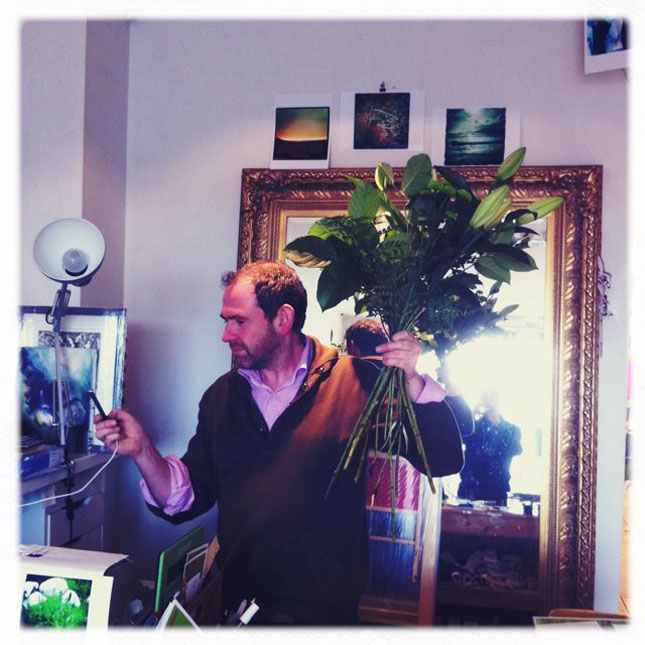 The florist: Tom Brawn of Tom Brawn, Contemporary Flowers and Weddings
The flowers: "Whether it's your bridal bouquet, a rustic arch or a simple arrangement in a jug, we love to use scented roses, peonies, hydrangeas, delphiniums and as many locally sourced flowers and foliage as possible. My team and I strive to create a cohesive floral look, from the bridal party, through to the ceremony and finally the wedding venue. We specialise in creating a look tailor made for each wedding incorporating details unique to the couple and their day."
Why they're my favourite: "These images are some of our favourite. We love working with natural flowers and foliage, sourcing as much in season and locally produced as possible. Creating informal, unstructured arrangements, from a floral arch to a simple arrangement in a metal jug or the clean elegant lines of phalaenopsis orchids and floating candles for a modern contemporary look."
My Style: Informal, rustic and natural.
Find me here: tombrawn.com Facebook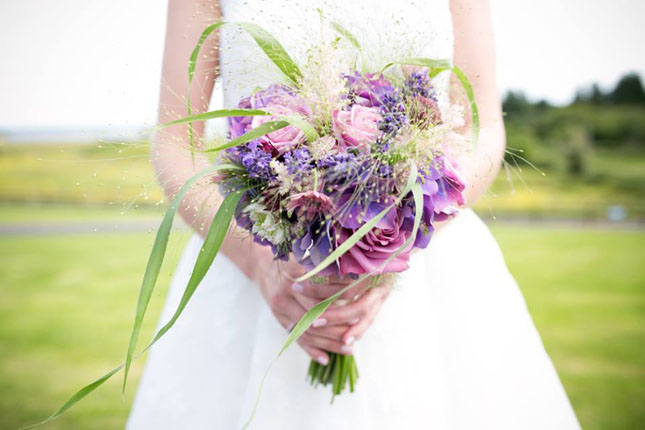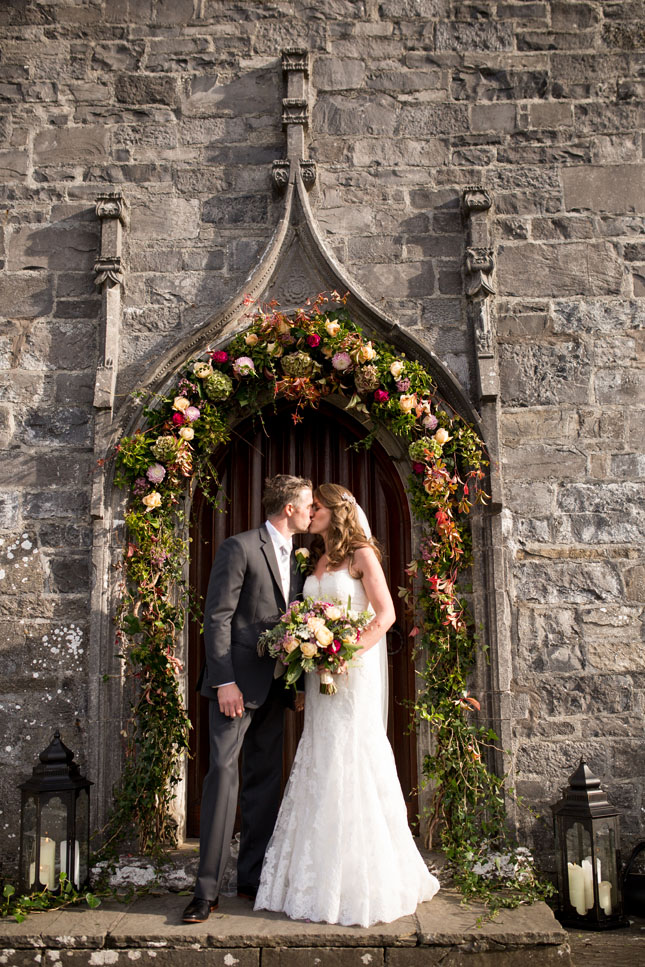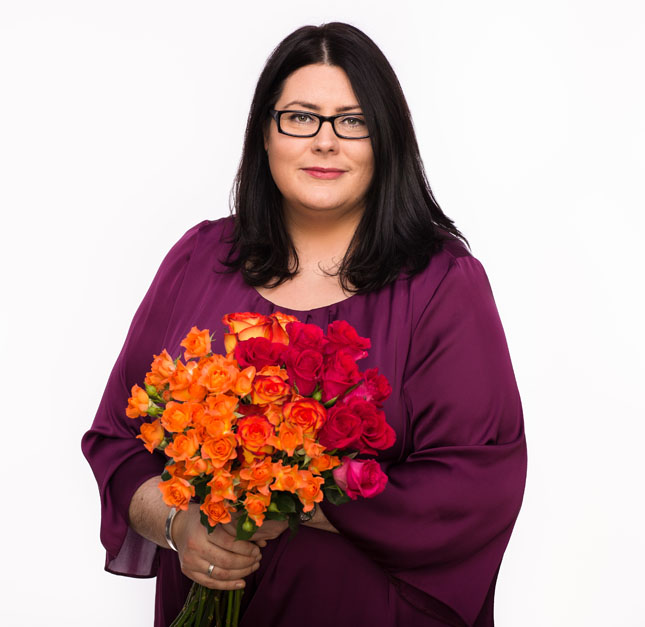 The florist: Bronagh Harte of Ginkgo Florists
The flowers: "Ciara and Peter were married at Halloween and Ciara wanted to embrace seasonal colour. For the personal flowers, we went with tones of orange and peach, textured whites and greys, complemented with lots of luscious local greens. We used soft foliage like asparagus, ruscus and eucalyptus as a base and were careful not to over-complicate the bouquet by adding too much of any one particular bloom. Succulents made a distinctive feature throughout and were included in Peter's buttonhole and the unity candle arrangement all captured beautifully by Ebony and Pearl Photography"
Why they're my favourite: "The ornithogalums (chins chins) are just perfect in this wild mix and the succulents added that little touch of magic."
My style: Simple, vibrant, elegant.
Find me here: ginkgoflorists.ie  Facebook,  Twitter,  Instagram, Yelp, Pinterest, Google+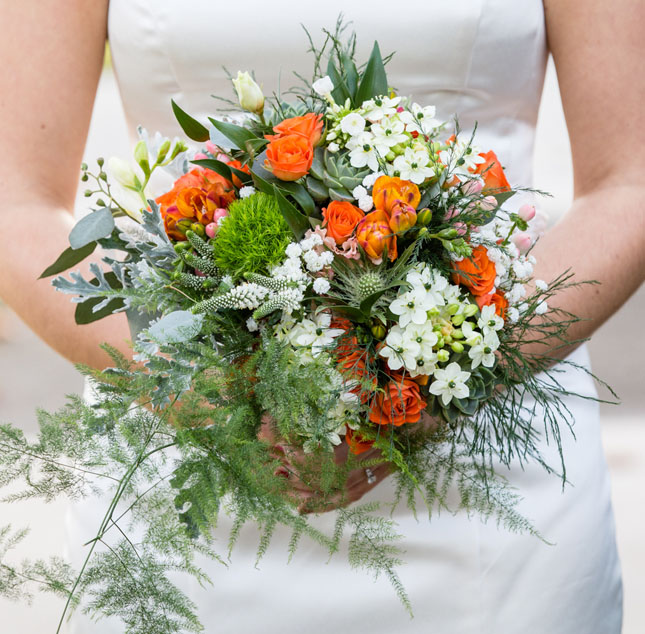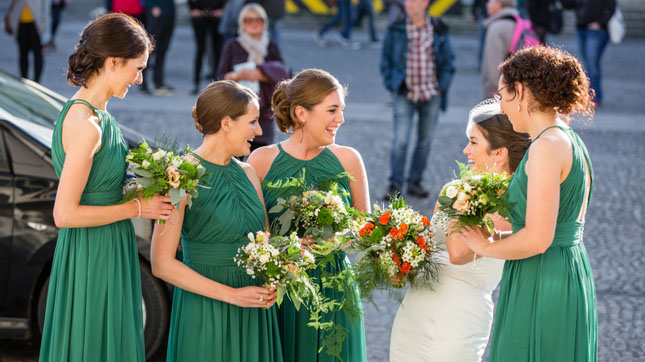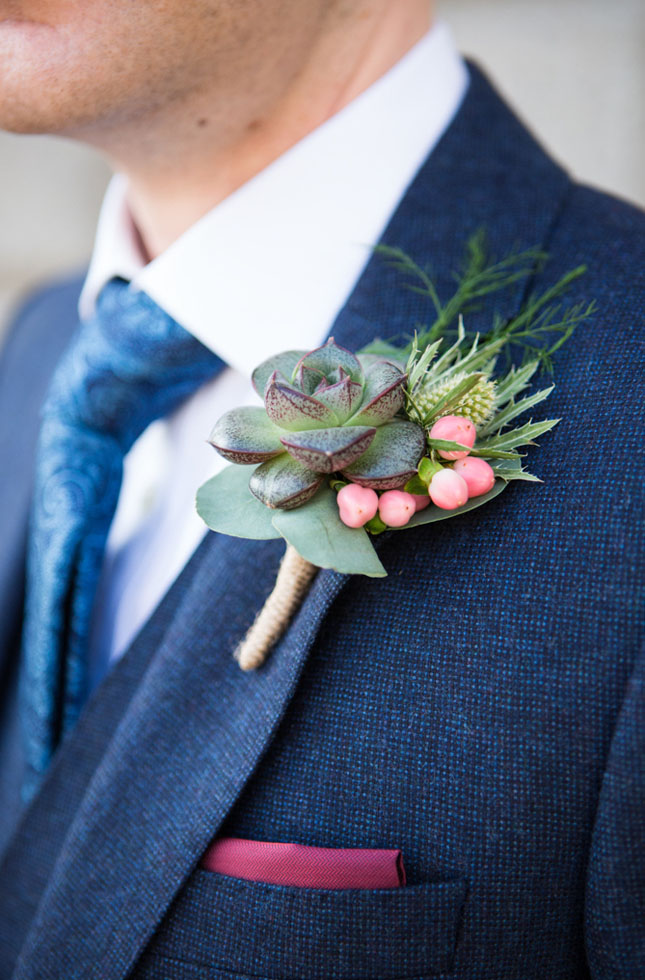 Images above: Ebony and Pearl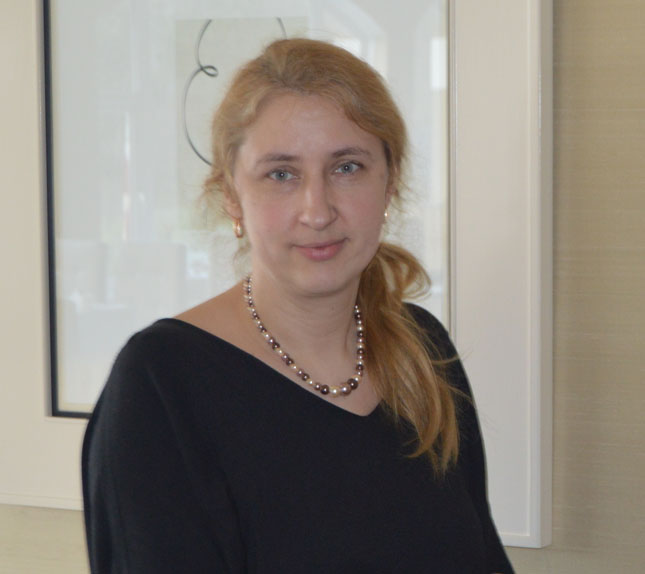 The florist: Vita Floral
The flowers: "The first is a wild style bridal bouquet, containing pale pink roses, white veronica, pink astible, pale pink dahlias, baby breath, scabiosa and greenery. The second, a round hand tied bouquet that's very rich in colour, containing red and orange dahlias, berries, callas, leucospermum and orange roses."
Why they're my favourite: They're full of color and stand out beautifully. One of these bouquets is a vintage creation and the second is a hand tied bouquet and it was an absolute pleasure to think up the designs and then create them just as I envisaged them. They really completed the image the bride had for her wedding and it is my passion to help make their dreams a reality."
My style: Unique, vintage, detailed.
Find me here: vitafloral.ie Facebook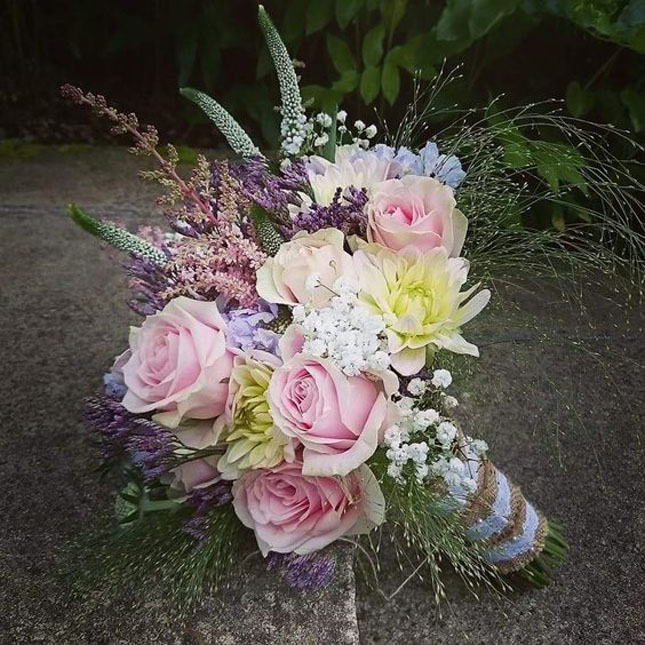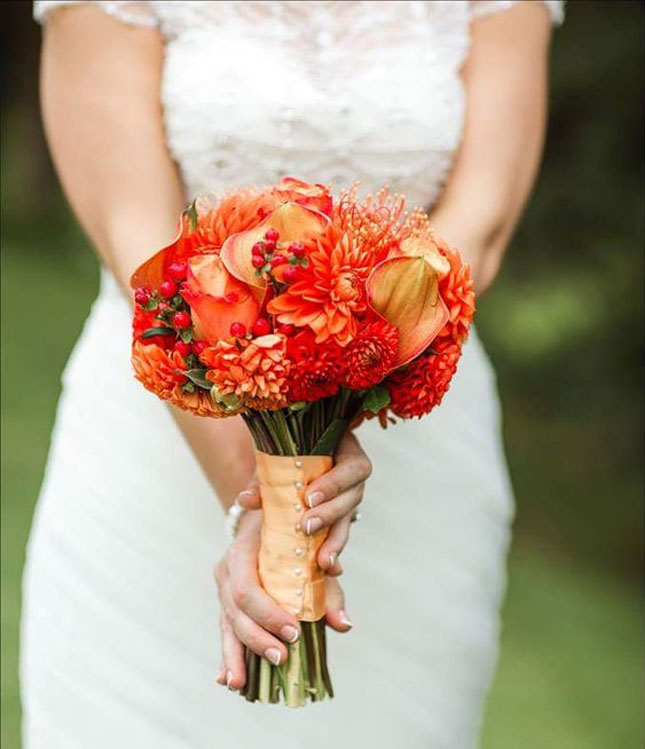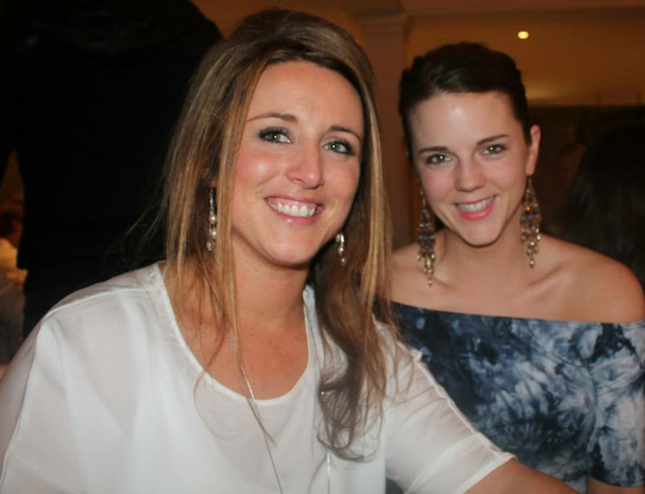 The florist: Caoimhe Ryan of Joy's Flowers for You
The flowers: The first image captures the real boho style of our bride with the chilled and calm vibe radiating through the photo. While the bouquet and headpiece contain a selection of the more traditional flowers, like roses and carnations, the design couldn't be further from the traditional dome of roses and shows a more informal creation allowing a true natural, rustic edge to the foliage and flowers.
I love the sense of warmth and comfort in the second photo. The old world castle decor mixed with vintage style flowers and candelabras is one of my favourite table centrepieces from our 2015 weddings.
The theme to the wedding in the last image was 'love & lavender' and the entrance to the Cathedral is made up of a walkway of lavender, heather and wild foliage displayed amongst lanterns and large wooden logs. The bridesmaids are carrying a mix of purple and white stock with a touch of dried lavender.
My style: Creative and joyful floristry.
Find me here: joysflowers.ie Facebook Twitter Instagram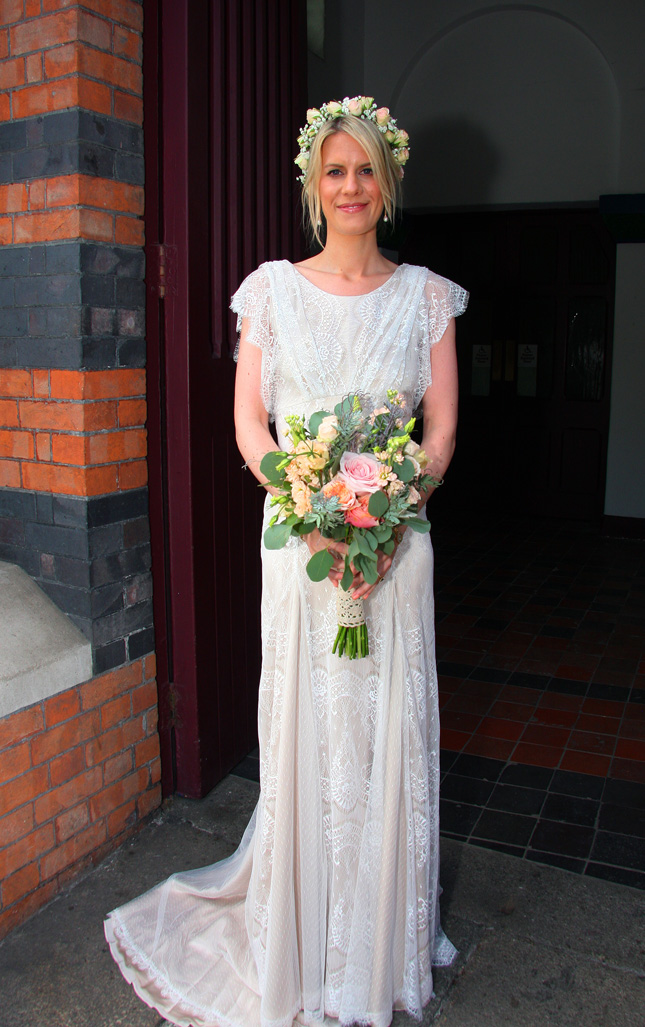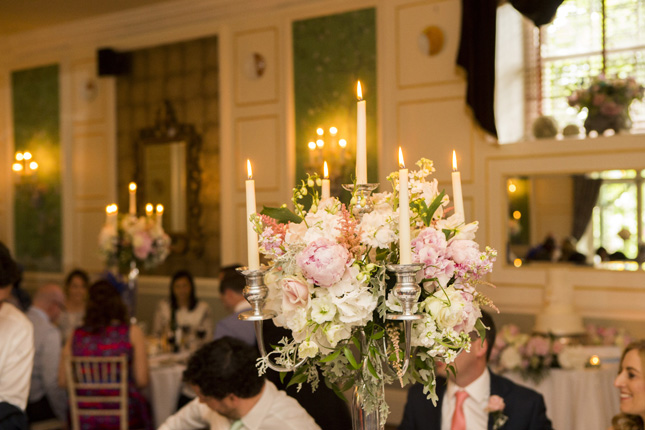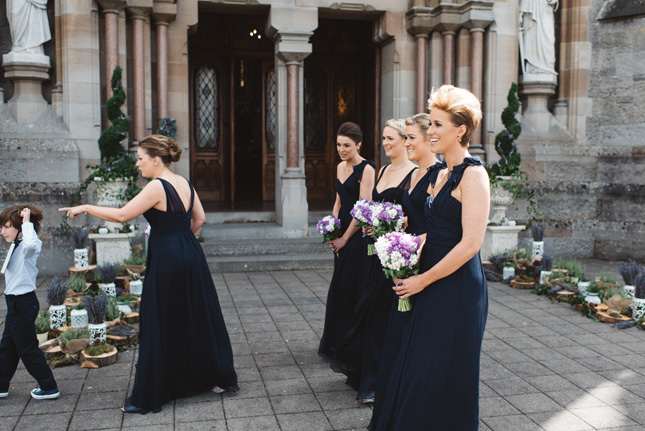 See anything you like? Don't forget to pin to Pinterest! Feeling fabulous about florals? Check out the competition below...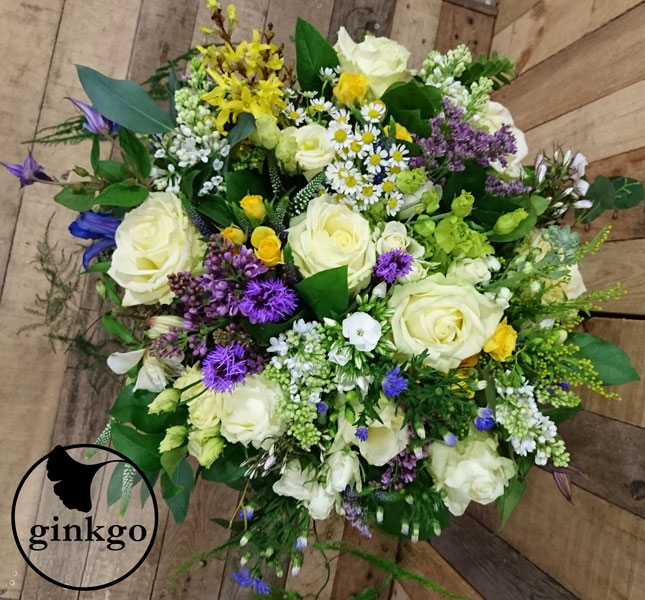 To celebrate Valentine's Day, Ginkgo Florists are giving one lucky reader a gorgeous bouquet to the value of €100, delivered to anywhere in Ireland. The winner will receive a seasonal spring selection, including blooms of lilac, guelder, spray roses, lisianthus, scented stock, freesias, scented white naomi roses and other fabulous flowers - sounds dreamy! To win, simply make sure you're following Confetti on Facebook and comment on the Facebook post so we know you've entered. Good luck!