Looking for a wedding welcome sign?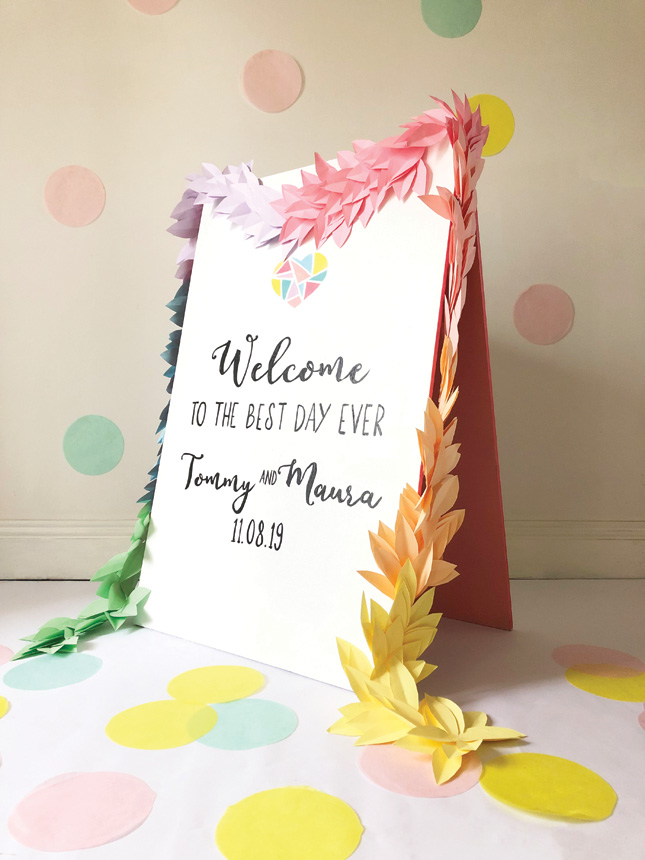 Well this is it! Having every little detail in your wedding all match with a theme and colour way can really make all the difference, including your signage, and especially your wedding welcome sign that will be your guests' first impression.
This wedding welcome sign will be one the first indications of what your guests will expect when walking into you venue, so impressing them here will set it all off on the best note, and you can match it in with your own
Materials Required for your Wedding Welcome Sign
2X sheets of 12m Plywood in 3" X 2"
3X Hinges
Primer and Satin wood paint suitable for outdoors
Two Fussy blokes Roller
Carbon Paper
Font Print outs
Pastel Paper Pack
Glue gun
Twine
Step by Step Method for your Wedding Welcome Sign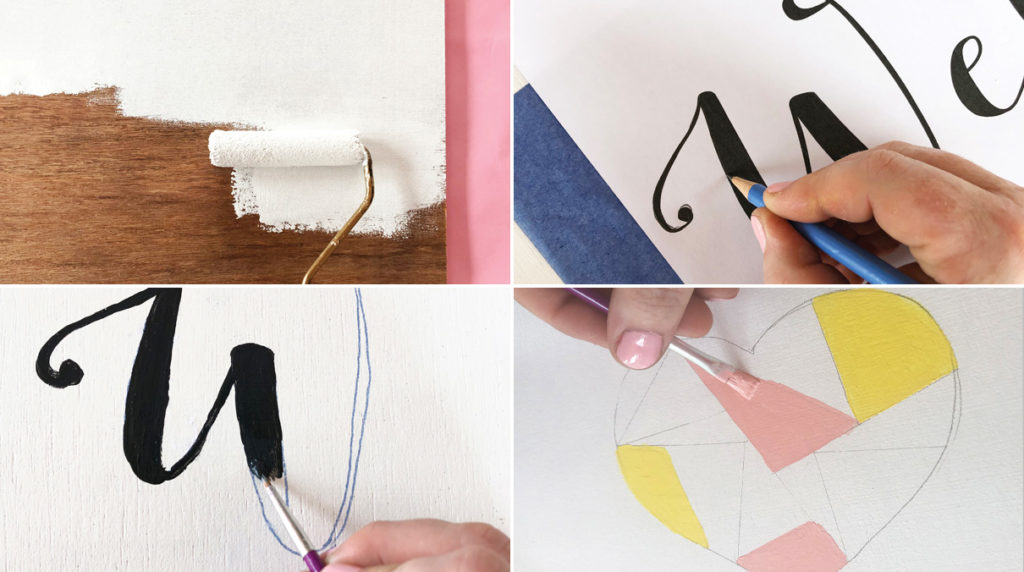 1. Prime the two boards on both sides
2. Paint the boards with White Satinwood paint with two coats leaving it fully dry between coats and then eave to dry overnight. On the underside I went for a pop of pink.
3. Print out the wording and lettering that you want to put on your board. Cut out the words and play around with layout.
4. Once you have decided on layout, tape them into place and with the darker side of the carbon paper facing the board, put it underneath the printout and trace over the lettering.
5. Remove the carbon paper and printout and fill in the lettering with black satinwood paint.
6. For the little heart I cut a paper heart drew around it in pencil and with a small ruler drew lines for the geometric look. With a small artists paint brush I painted the triangles different shades and once fully dry paint a thin white line in-between each line.
7. Face the back of the two boards together with the tops facing each other. Place the three hinges in between the board and screw the hinge in each side of the board.
8. Stand the sign up.
Step by Step Method for the Garland
1. Fold a piece of paper in half and draw one side of the leaf and cut it out.
2. Draw the leaf onto the pastel paper and cut them out, you can cut a few pieces of paper at once. Repeat with all the different colours.
3. Cut your twine to the desired length . Place a small dab of glue onto the back of the paper leaf at the top of the leaf. Stick onto the twine alternating from left to right.
4. Continue this until you reach the end your desired length.
Want more wedding decor DIYs from Joanne Condon?
Joanne's book Furniture Crush contains 12 easy DIY projects for the home - we're big fans! Get yours at kylelane.ie/book!
Love this project? Don't forget to pin it to Pinterest. Are we Pin-pals? Click here to join the fun.