Confetti columnist Joanne Condon is back with our favourite DIY to date: an awesome colourful marquee light. The ultimate ceremony backdrop or bar signage, it looks super slick and is much easier to create than it looks. Read on for her step by step guide...
DIY Marquee Light: a step by step guide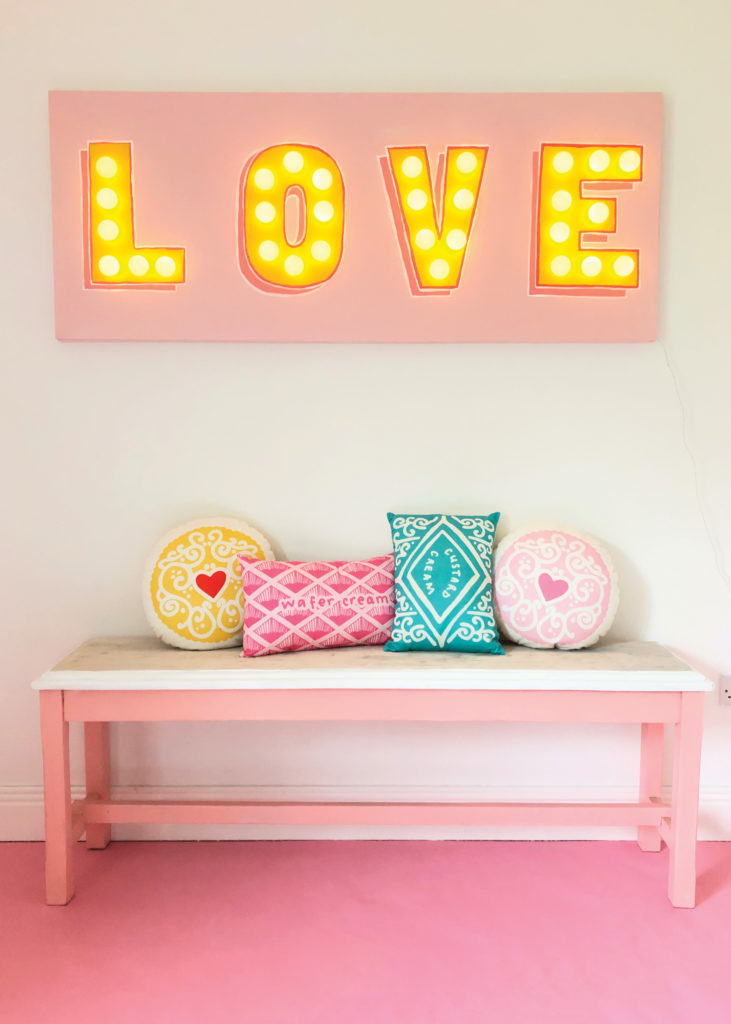 When you are marrying the love of your life, why not add a giant marquee light to your wedding décor? These lights can be quiet costly, even to hire, and when you make your own you can give it a twist by adding in your own colours and style to match your wedding. And it's something you can have for keeps for your home.
Materials required for a DIY marquee light
A set of festoon lights – I got mine on light4fun.co.uk
A piece of MDF board measuting 150cm x 60cm x 1cm
Two slats of timber measuring 3.5cm wide x 1.5cm deep
A fine edged saw
Brushes and a roller - I used Two Fussy Blokes rollers in smooth, twofussyblokes.com
A drill and a spade drill bit in size 32
Primer and satinwood paint
A hammer and nails
Wood glue
Method for a DIY marquee light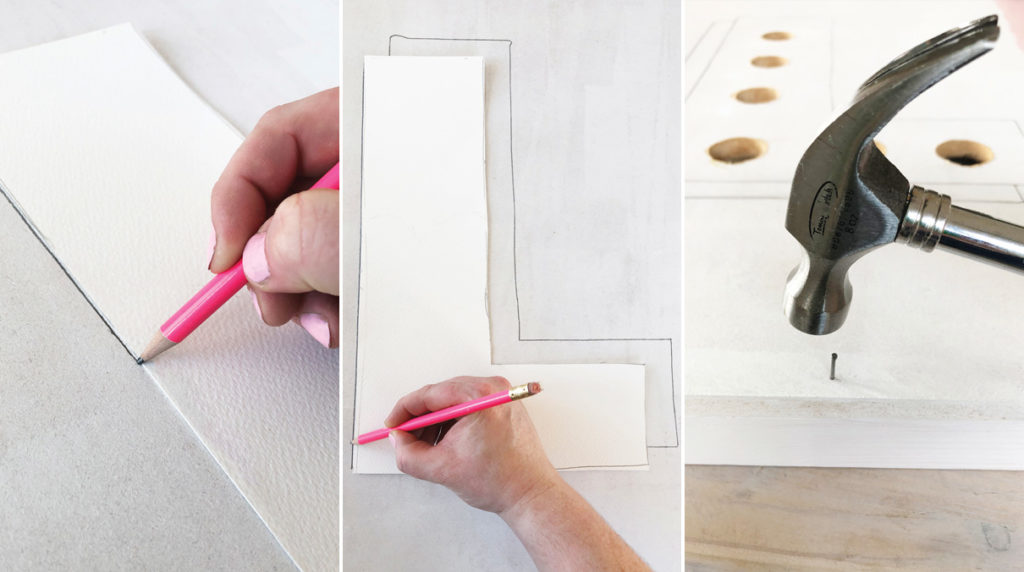 1: First, prime your board using a roller to seal the MDF. Next, plan out your letters. I drew mine before cutting them out, but you could also print out letters to cut. I used four letters in this project, so I divided my piece of MDF board in four, to allow enough space for each letter.
2: I put the paper letters in place and drew around them with a pencil line. I then made the letters look 3D, by creating a 'drop shadow'. I did this by moving the paper letters slightly down and to the left, and tracing the 'shadow' line, again in pencil
3: To work out the placement of each bulb, I unscrewed their covers and placed them onto the letters. Play around with them to see how many bulbs works best on each letter. Once you are happy with the layout, make a little mark for the position of each bulb.
4: With a spade bit for a brill in size 32 (the same size and the end part of the bulb), drill the holes on each letter. Then sand the edges of the circular holes.
5: Measure the length of the MDF board and cut two timber slats in the same length. Add a little wood glue to the thinner side of the slat. Tack the slat to the top and bottom edge of the board starting in the middle and working your way out. Do the same on each side, allowing a little gap on the right side, to allow the cable wire to come through.
6: Paint the letters first with a paint brush and then paint the rest with a roller. I used a flat artist brush to get in close to each line. Leave it to dry, before applying a second coat.
7: With a small flat artist brush, I painted the drop shadow in a dark pink colour. This will need two coats, again with drying time in-between each. Finally, with a thin brush and white satin paint, I painted the edge line of the letters and drop shadow.
8: Once these are fully dry, I popped in the lights. I placed the light through the hole from the back and screwed into the bulb covers. I pushed the bulb covers into the hole, to make them secure. You can also add cable tacks in the back to keep them in place, if you wish.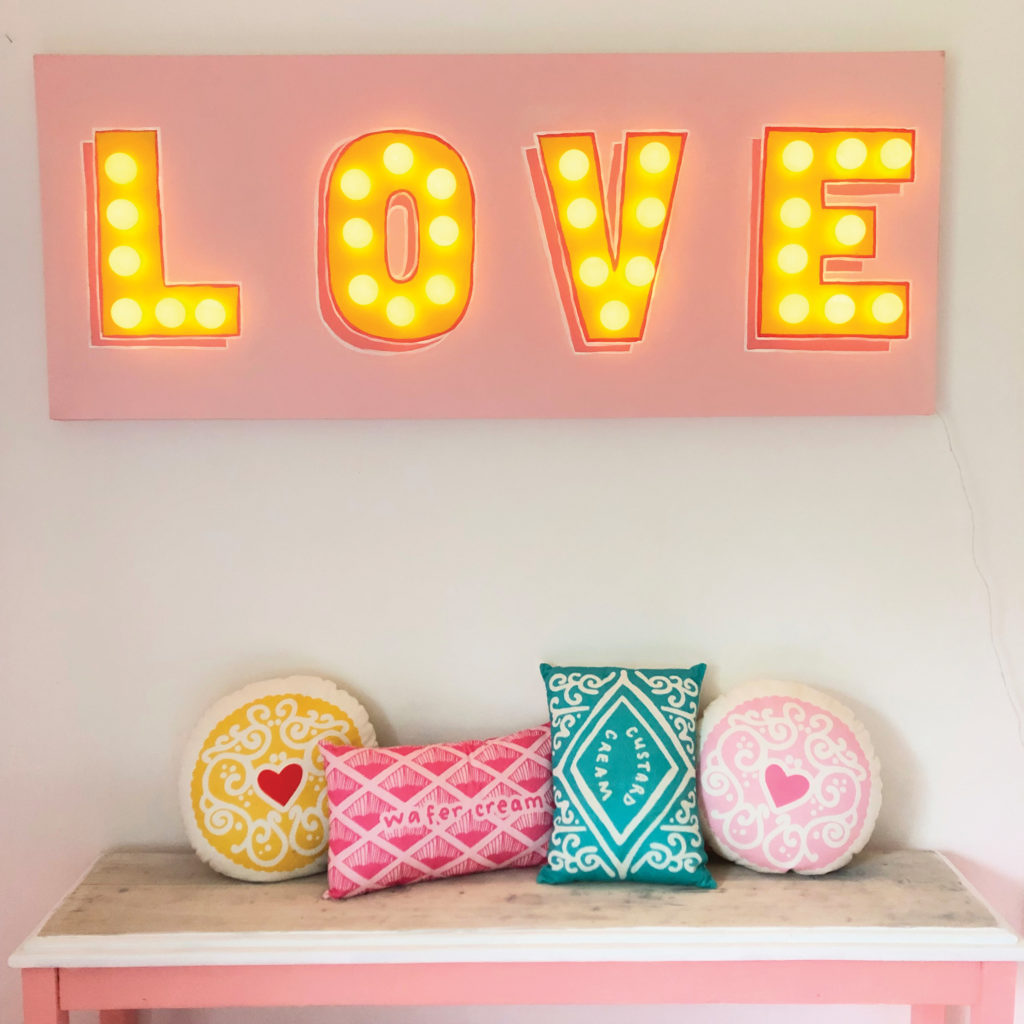 Want more wedding decor DIYs from Joanne Condon?
Joanne's book Furniture Crush contains 12 easy DIY projects for the home - we're big fans! Get yours at kylelane.ie/book!
Love this project? Don't forget to pin it to Pinterest. Are we Pin-pals? Click here to join the fun.