Colourful wedding décor is RIGHT up our street. Think flamingos, bright backgrounds, and plenty of fun being injected into the day! We are ALL over it!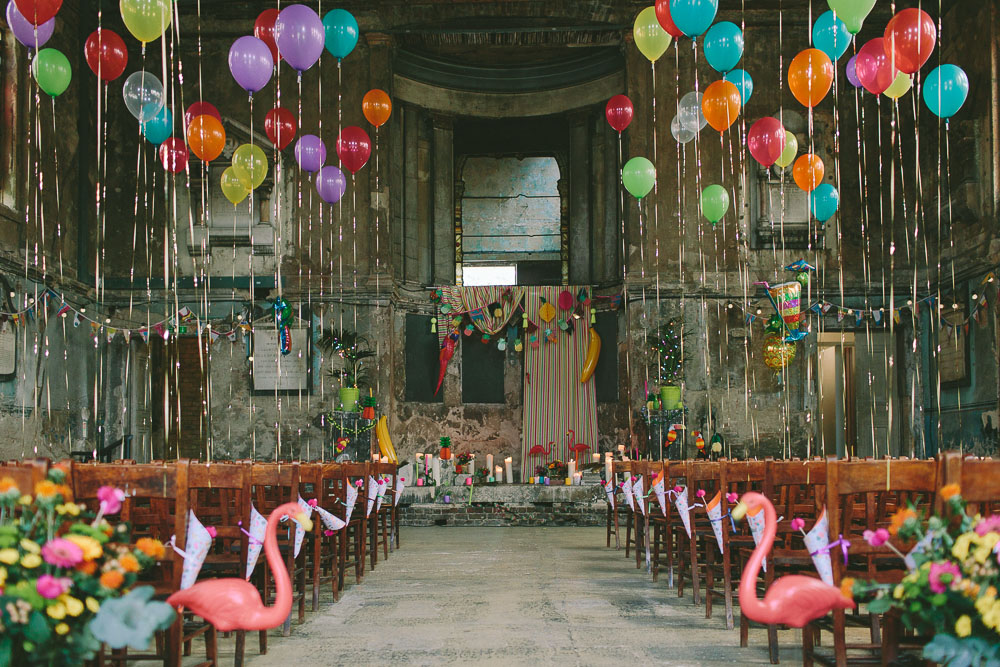 Image above: weheartpictures.com
How about this for a ceremony space?! Balloons, flamingos, and giant bananas - this wedding has got it all! #weddinggoals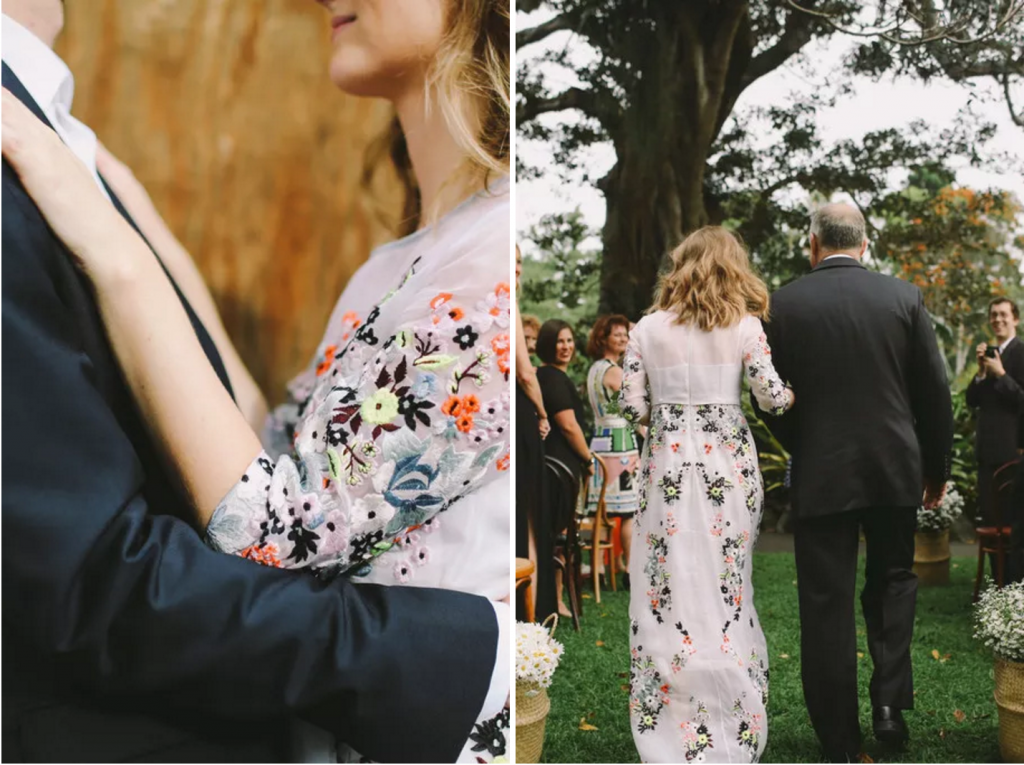 Image above: Lara Hotz
If you're looking for a subtle way to add a little colour to your wedding dress, look no further. This beautifully embroidered gown is ideal for a bride who just wants a little pop!
Image above: The Lous
Let's talk about the shoes - Manolo Blahniks no less! If you're just not that into a coloured gúna, shoes are the perfect way to inject colour. Check out the rest of Sarah and Gav's colourful wedding by The Lous.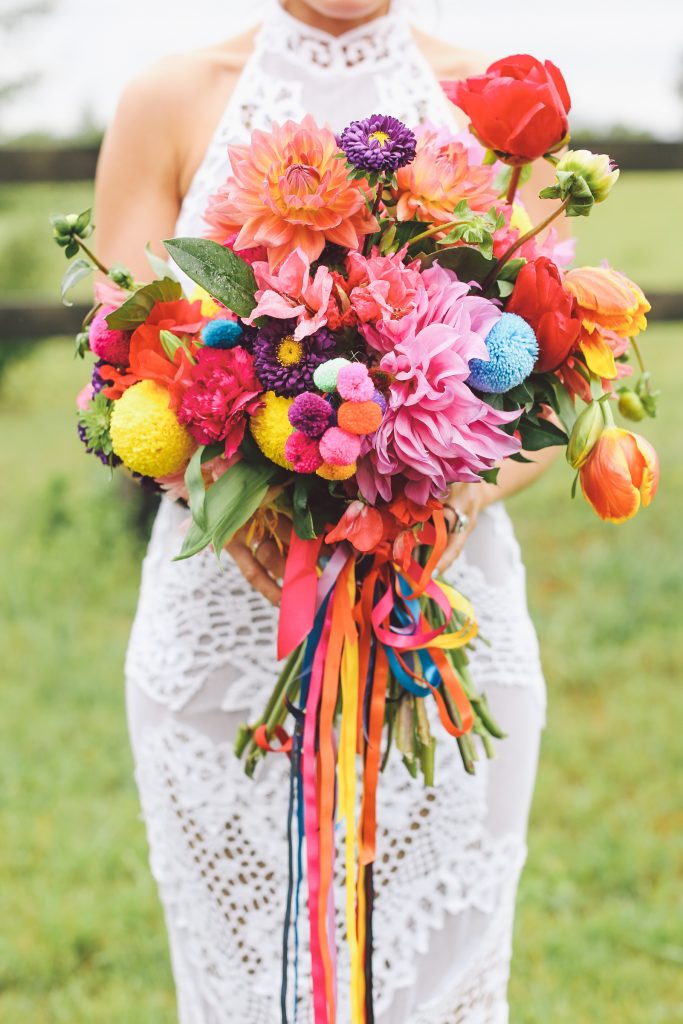 Image above: Lara Hotz
Bouquet goals right here. This colourful arrangement features beautiful parrot tulips, dahlia, bellis and even a pompom or two.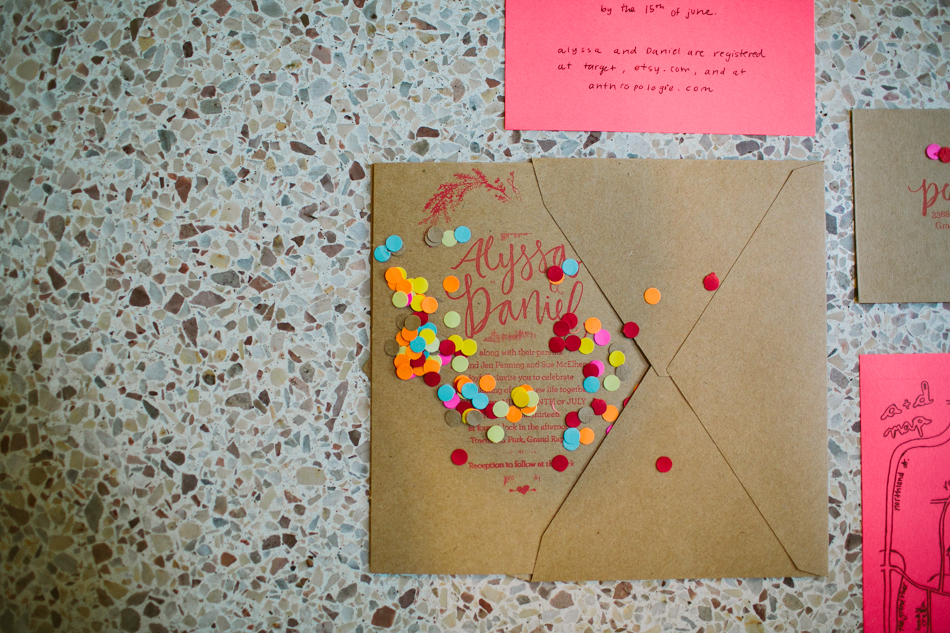 Image above: Jill Devries
Simple, but sweet stationery to give your guests a little taste of your colourful wedding celebration. Throw in a little confetti and you'll be away in a hack!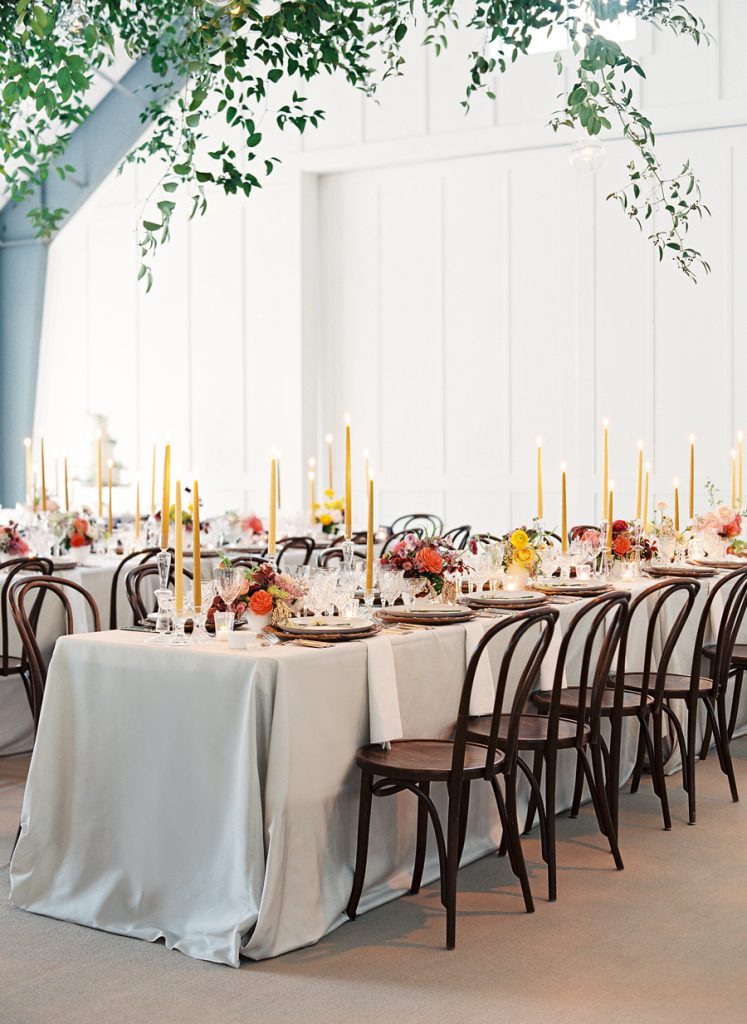 Image above: Jose Villa
Another subtle way to tie in your theme is with different colour candles and florals on a plain tablescape. Simple, yet effective.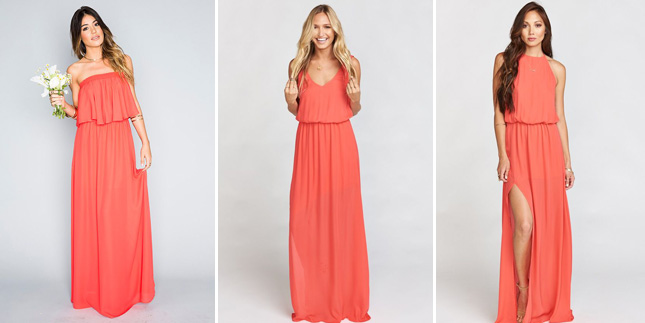 Image above: Show Me Your Mumu
Now, we're not saying you should dress your 'maids in all the colours of the rainbow. Pick one bright colour and then choose different styles to suit each gal. We adore these Show Me Your Mumu gowns in Hibiscus Crisp. (From R to L) Hacienda Maxi Dress, Kendal Maxi Dress, Heather Halter Dress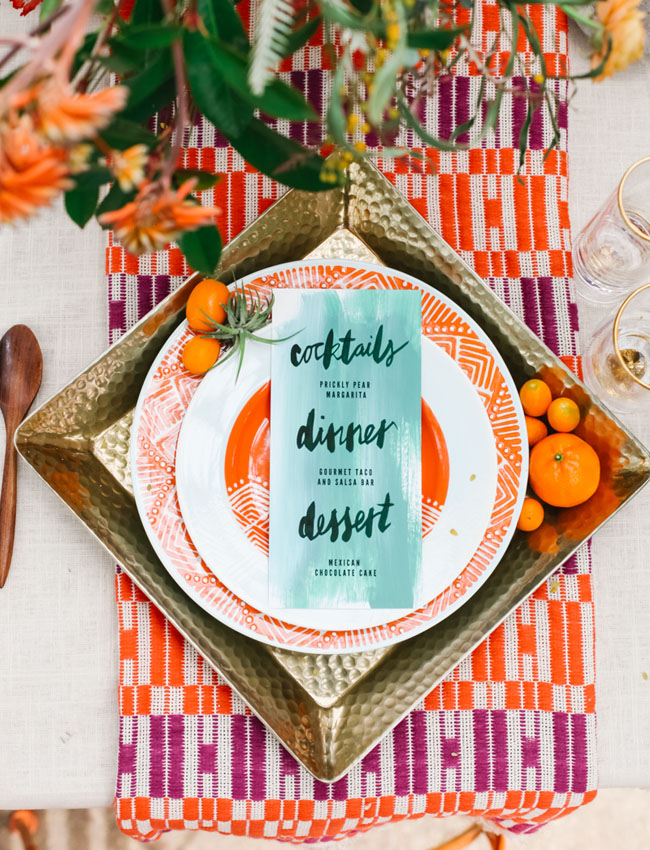 Image above: pie-shoppe.com
If this table setting doesn't look a fiesta, we don't know what would. The mix of blue, orange and purple really stands out and keeps things fresh.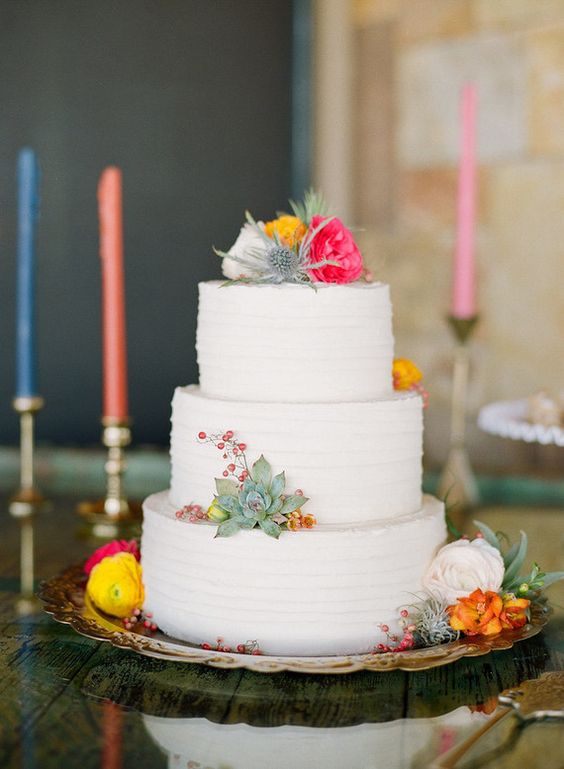 Image above: sophieepton.com
Opt for a plain buttercream cake and then dress it up to your liking. Adding in succulents and colourful posies to tie everything together.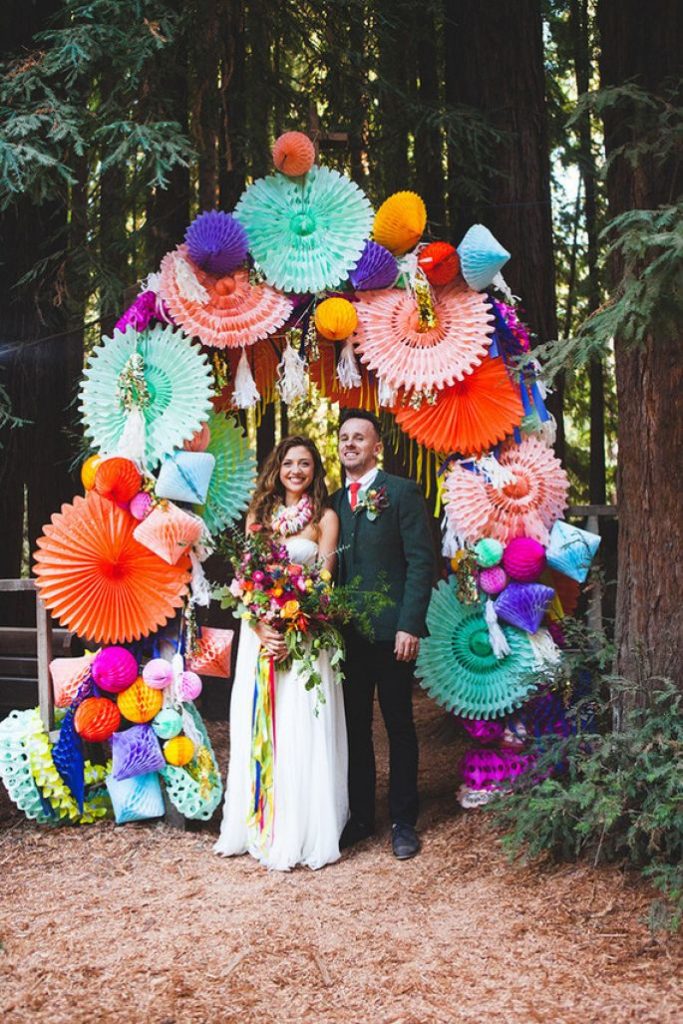 Image above: martinfrancovielma.com 
How's this for a backdrop? Awesome paper decorations like these can be found on Hippenings.com. Think of how amazing your wedding pics would look!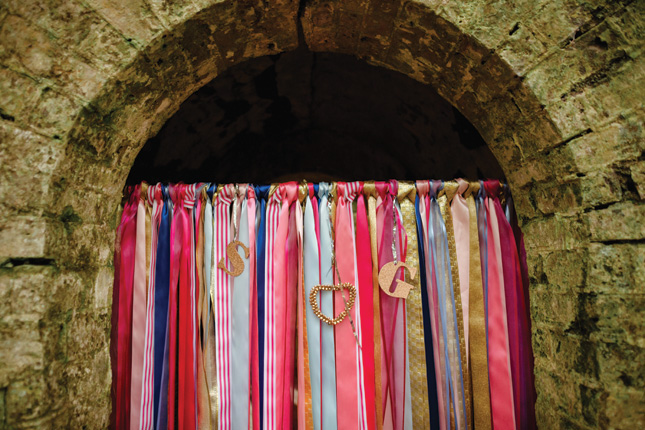 Image above: The Lous
Or, alternatively, get a load of different coloured ribbons, tie them to a pole and hang up. Such a simple DIY backdrop idea!
Looking for some awesome vendors? Check out our dream team of suppliers!