Image above: Mint Photography
Backdrops are popping up more and more at weddings and we are definitely big fans of them. Whether you choose a sea of pretty posies or golden streamers, DIY wedding backdrops are the way to go! We've rounded up five of our fave super easy backdrops and where you can get all you'll need to recreate them yourself. Happy crafting!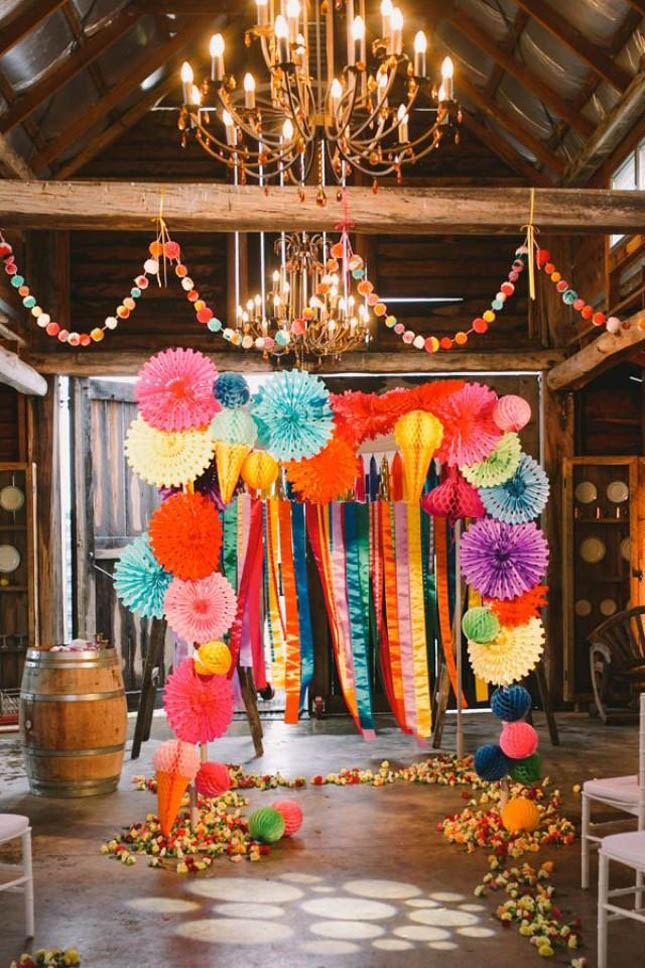 Image above: Lara Hotz Photography
Exploding Colour
Talk about an explosion of colour - we're obsessed with this creation, shot by Lara Hotz. This is great because you can go all out or go for a more subtle approach, chop and change it to suit your theme - the backdrop is your oyster, so to speak. Easy enough to assemble by just sticking on the décor with a hot glue gun or hanging where necessary.
What you'll need:
Colourful decorations (garlands, ribbons, streamers, hanging decorations similar to ones below)
Hot glue gun
String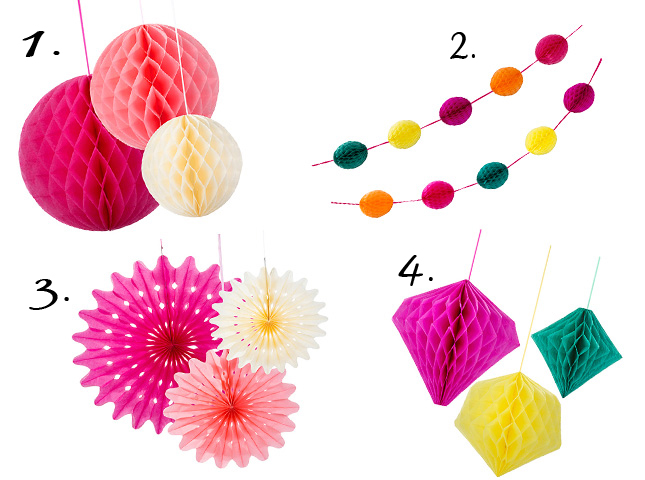 Trio of honeycomb balls - blossom, €7.25, hippenings.com 2. Fiesta honeycomb garland, €17.50, hippenings.com 3. Paper fan trio - blossom, €6.75, hippenings.com 4. Geo honeycomb trio - vibrant, €14.50, hippenings.com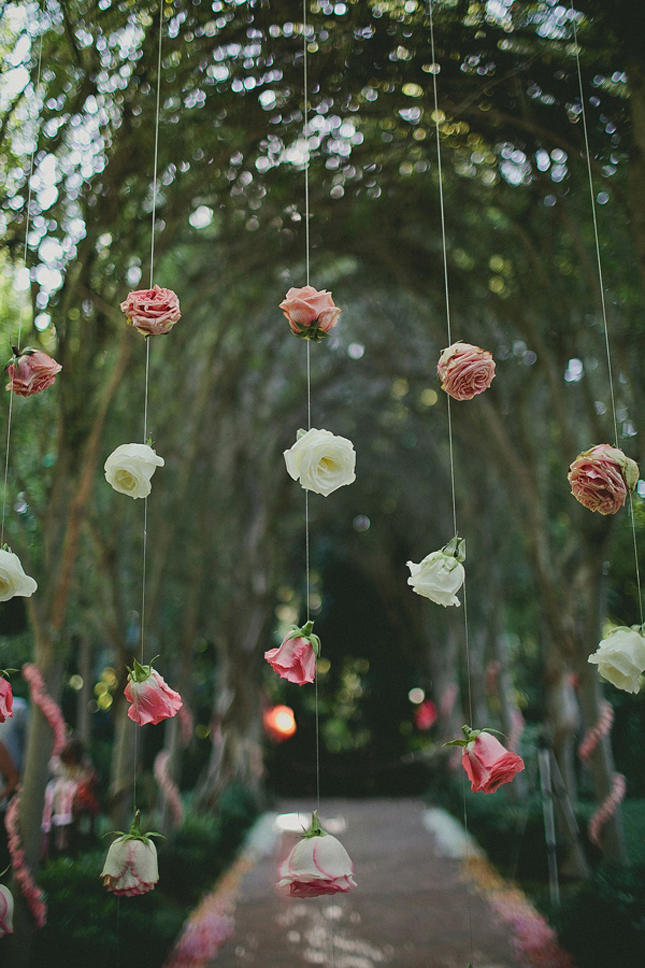 Image above: Wild Whim Photography
Beautiful Blooms
Now, we're not talking a flower wall of Kim K proportions, we're taking a more subtle approach by hanging delicate and romantic blooms to create an ultimately gorge background. Simply gather your fave flowers and cut off the ends but leave enough of a stalk to tie the string to. This one's perfect for a garden ceremony because you won't need a frame, you could just hang them from trees or on a wall - bonus!
What you'll need:
Fresh flowers of your choice (we love ranunculus FYI!)
Floral scissors
Invisible string/wire to tie flowers together
PVC pipes for a frame (optional and depending on venue)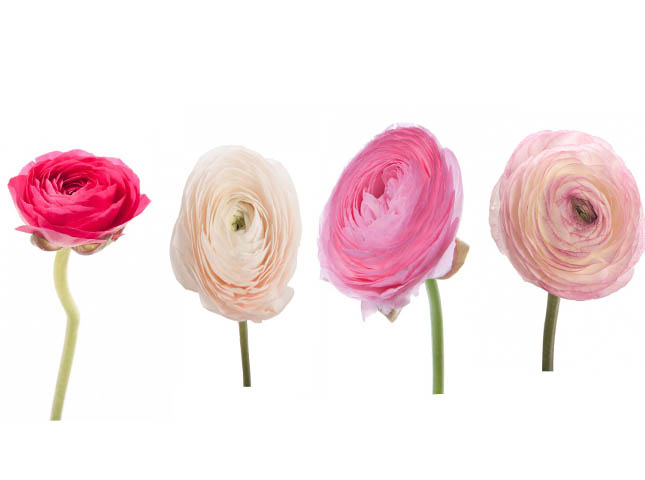 Ranunculus are our favourite, but by all means pick and choose your own fave florals for this project.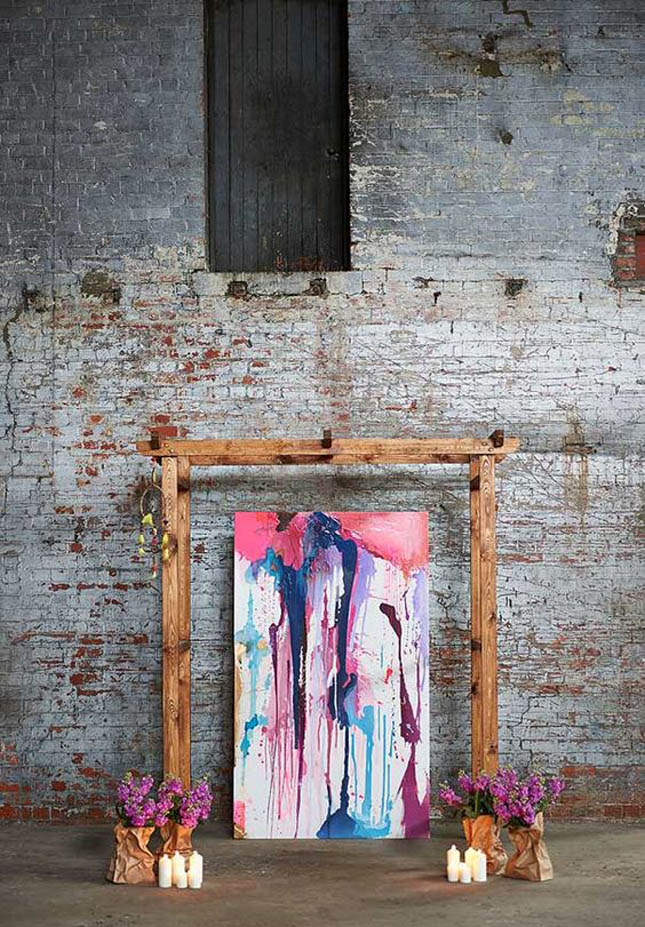 Image above: Nikole Ramsay
Painted to Perfection
One to have fun with, is this paint splattered canvas backdrop - pick a few colour options that fit with your theme or feel of your wedding. If you have kids, they will love this and it'll be a nice sentimental touch having them help create your wedding backdrop. This one's by far the easiest to make, get everyone to pick a colour and splatter the canvas with it - you don't need to be precise with this and that's the beauty of it!
What you'll need:
A large blank canvas or canvas roll (like this one - canvas roll will be easier as you can cut off whatever amount you need)
Paint (three or four max - you don't want too much colour)
Flowers, candles - anything you want to accessorise it
A wooden frame (optional)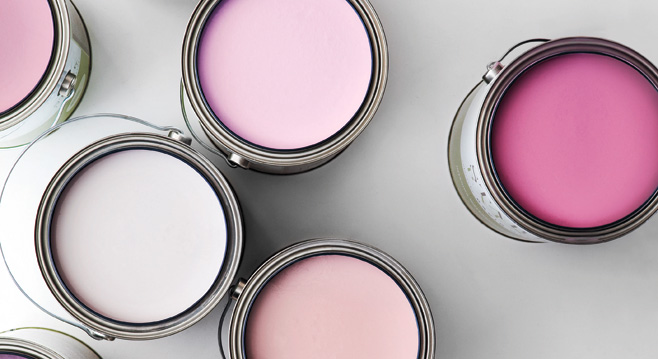 Image above: desireerantala.com
Linen canvas roll, primed (210cm x 10m), €212.50, artmaterials.ie 2. Paint, Woodies or Dulux etc...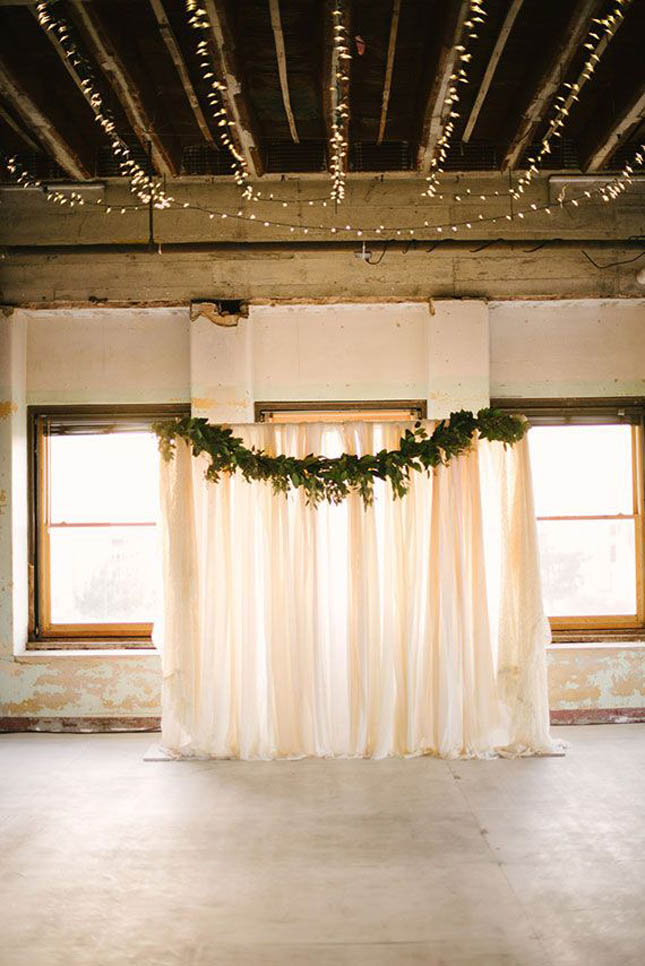 Image above: Emily Ann Hughes Photography
Fabulous Fabrics
This backdrop oozes elegance and romance - it has a very mediterranean vibe to it. The best part about this particular backdrop is, it won't cost you a whole of time or money - win, win! Simply, wrap your chosen fabric around the curtain pole/frame and drape the foliage using some string.
What you'll need:
Fabric of your choice (Try Hickeys for an array of different fabrics)
Foliage to adorn the top of the backdrop (you can source this from your florist)
String
Fairy lights (optional but may be nice to incorporate)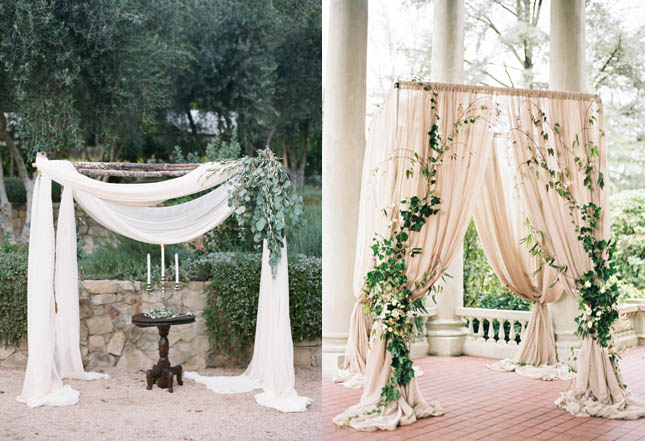 Image on left: Diana McGregor | Image on right: Holeigh V Photography
You don't have to have the foliage on top, either, try out different styles and place it to one side (similar to the image on the left) or have it ascending on both sides (similar to the image on the right), the choice is up to you.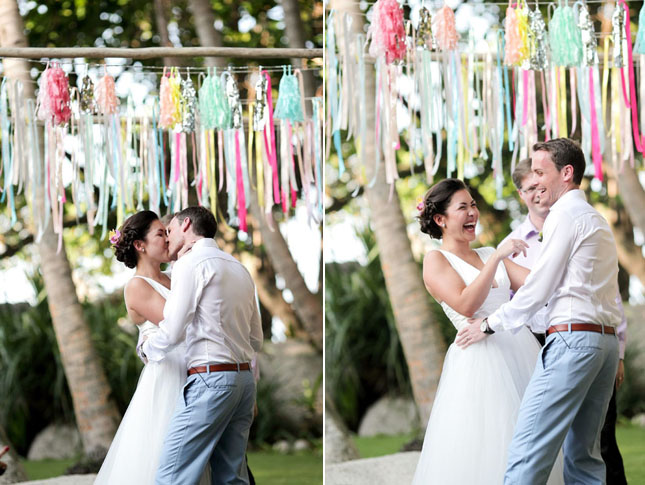 Images above: 39 East
More Tassel, Less Hassle
Is there anything better than a tassel garland? We think not! These are super easy to make by gathering your favourite coloured tissue paper (or foil if you want to add a little glitz), cut both sides of your sheet into strips, leaving space in the middle. When you've finished cutting, gather the paper at the uncut middle part and twist to form a stem. Then all you have to do is attach them to some string and hang up - simples!
What you'll need:
Coloured tissue paper/foil paper
Scissors
String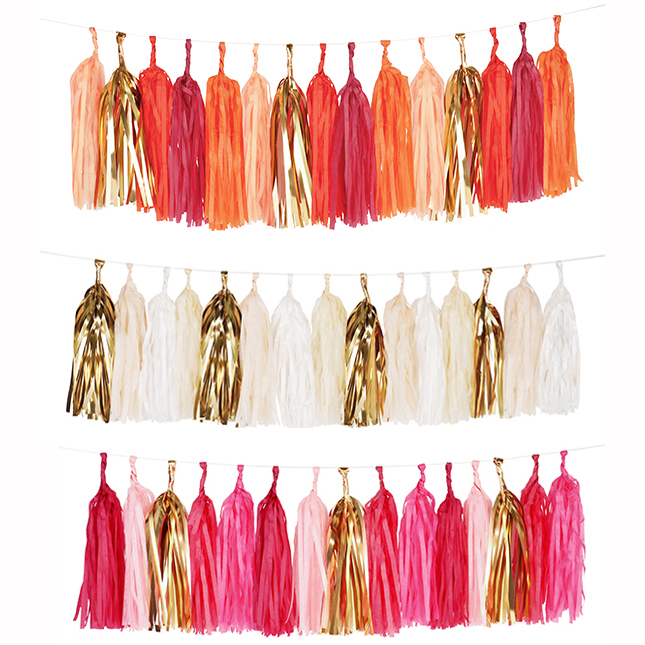 And soon enough you'll have gorge garlands to arrange how you please and create a kick ass backdrop! Or, if you're not into the whole cutting thing (and let's be honest, we're not) you can get these mega cool garland kits from Hippenings for €15.50 each! They make 20 tassels and they come with pre-cut tissue and foil paper, twine for hanging and instructions. Hallelujah!