Wedding tan needs to be perfect - that means no streaks and definitely no orange hue. Even those who aren't seasoned tanners often want a healthy glow for their wedding day. But whether you're a pro or a first timer, caution should be taken to avoid tan-tastrophes.
Don't even think about it!
Sunbeds are never, ever, worth it. Don't risk your health for the sake of aesthetics. Especially when faking it is so easy. Remember too that parched skin is not good skin and one too many sunbeds can add years to your appearance and cancel out all the other good work you're doing. Just don't do it.

You better work!
Before you put anything onto your skin, get it in great nick. Invest in a body brush and some gentle exfoliating products. Use both twice a week to clear away dead skin cells and encourage lymph drainage.
Try, try again
Bear in mind it takes a good fortnight (if not longer) to completely rid your skin of a spray tan, so you'll need a good chunk of time for trials. Chose a few brands you want to try, and get started early.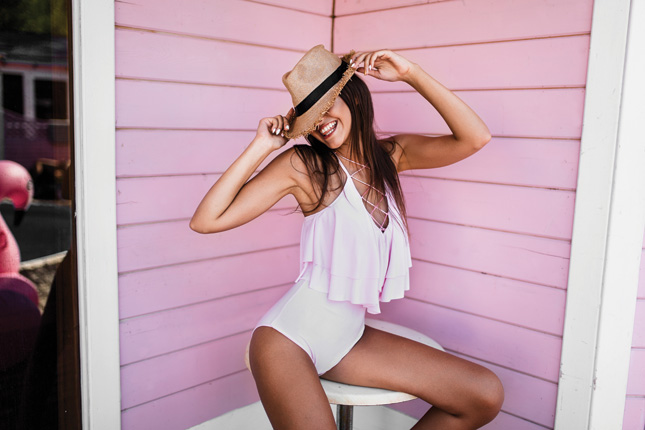 Tan and makeup
Speak to your makeup artist – does he/she want you to have your face tanned? Do they want you to come tanned to your makeup trial?
Bronzing basics
Go to the salon wearing loose clothing (no bras, jeans, tight socks or anything else that'll leave a mark on your skin) and flip-flops. Your tanner should offer you moisturiser for your hands, feet, knees, and elbows – ask if they don't. When leaving the salon, be aware of the weather and avoid rain at all costs. If you're travelling by car, put a towel under you, as well as one between your shoulder and the seatbelt to avoid marks and transfer.

The final countdown!
A minimum of two weeks out from your wedding, stop using developing tans - you'll want to be clear and smooth to take your wedding week tan perfectly. For tanning novices, we recommend getting your wedding tan two evenings prior to your wedding. So if your wedding is Saturday, get the spray Thursday evening. Shower Friday morning, apply a good layer of hydrating (but oil-free) moisturiser and wear loose-fitting clothes if possible. For those more confident with their tanning, the day before your wedding should be fine, showering and moisturising on the morning of. Avoid using a loofa in the shower - simply wash with your hands and some shower gel. The exception to this is the underarm area – it's worth giving a thorough scrub there to minimise the transfer onto your dress.