Wedding makeup advice can differ from artist to artist. Phrases like "I want to look like myself, but glowing", "I want it to look like I'm wearing makeup, but not like I'm wearing makeup", may crop up. What does that even mean? Well, we caught up with pro makeup artist and entrepreneur, Aimee Connolly to get the 411 on wedding makeup.
Go With a Pro
Firstly, you do need a makeup artist. I have been doing wedding makeup for the past six years and it's definitely one of the most enjoyable parts of the job. My first piece of advice is that if you have a certain someone in mind, fire them an email and get them booked. Or at least put the feelers out, as soon as you can because people really do book up fast, especially when they're in demand.
Sound it Out
Secondly, choose someone who you know has a reliable reputation and who is sound. This might sound crazy because all we really need is someone who is great at makeup, right? Not necessarily. Of course, you want someone's otherworldly skills but you also want someone you click with. The morning of your wedding is nearly a third of your entire day, so you want to be surrounded by people that make you feel relaxed and special.
Trial and Error
Make sure to organise a trial ahead of the wedding, about three to six months beforehand is roughly the average and, based on this, get yourself some top-up products. Your trial is your time to test the longevity and finish of your look. If you get shiny or you don't adore your liner at the end of the day, don't panic! Your look isn't set in stone and your artist should be more than happy to accommodate. Topping up your makeup isn't the be all and end all, but there are certain products you will need with you, which I will highlight in my top ten to follow...
For the morning of the wedding, make sure you allow yourself enough time. I always aim to have everyone ready about an hour before they want to leave to go to the ceremony. This means that it allows for delays should there happen to be any, and you can get into the dress without any sweaty panic and maybe even have time for a glass of bubbles. Your team should know their timings so take their advice, get some sleep, drink lots of water and enjoy the day.
Aimee's Top 10 Beauty Picks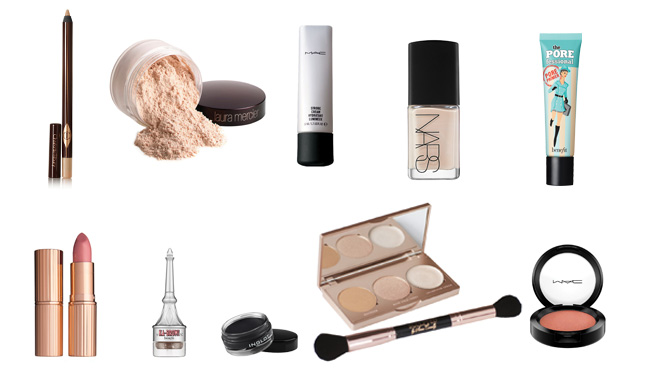 Where you'll find Aimee:
Facebook | Instagram | YouTube | Website