With so many details to organise when planning a wedding, it can seem somewhat silly to spend too much time thinking about what perfume you're going to wear. After all, all your favourite scents are your favourites for a reason, so what's wrong with wearing one of them for the day?
We love the growing trend for a 'wedding scent' – ie, the perfume you wear specifically for your wedding day. The idea is that not only will you pick something special for the big day, but that that smell will forever remind you of your wedding whenever you wear it. If you're particularly sentimental, we love the idea of only wearing that perfume in future on anniversaries or special occasions.
With that in mind, Jo Malone, the scent experts, have a Bridal Scent Experience, where they can help you choose from their expansive range of scents, and advise on scents to combine to find the perfect blend just for you, or your whole party or your wedding room, as applicable. I booked in with the Jo Malone counter in Brown Thomas in Dublin, and the lovely Kirstie from the team there looked after me.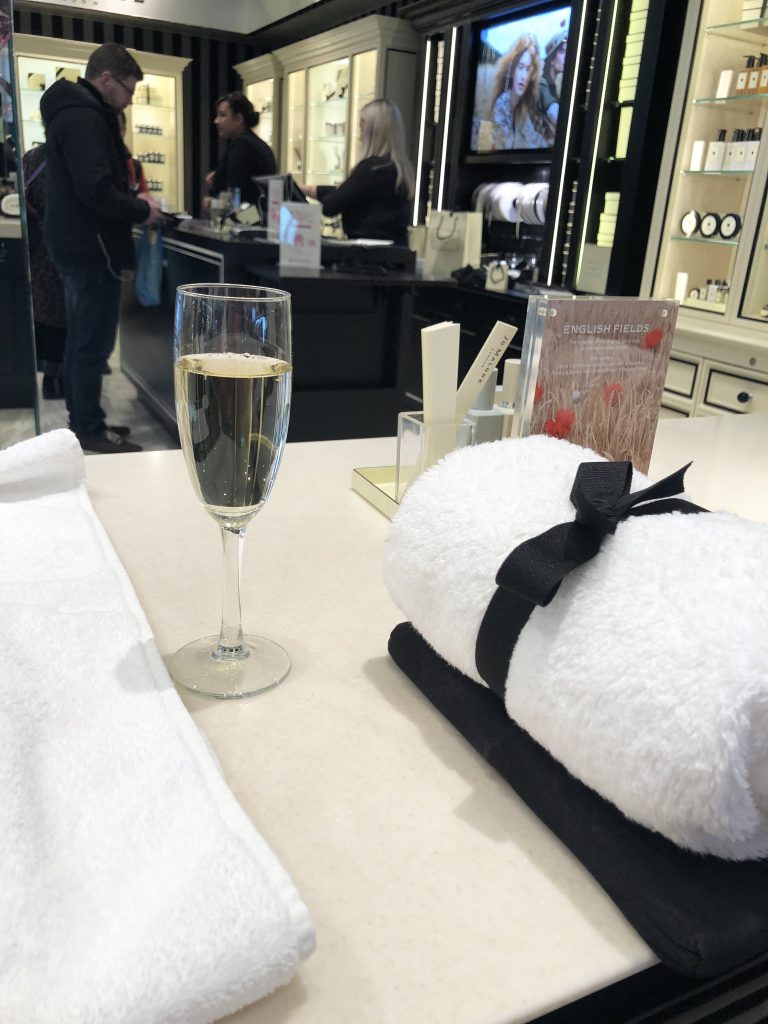 The consultation is completely free and you can bring along a guest. Kirstie mentioned a lot of couples come together, often to find a scent each, or brides sometimes bring their mams or maids of honour to give them a scents-check (I know, I know – sorry!). I went alone - as someone who is very black and white about scents I like and dislike, it would have been a case of too many cooks with anyone else in the mix. As my wedding is a little way off yet, we concentrated on just finding a scent that would suit me.
Over a glass of prosecco, Kirstie asked about wedding planning – how we were getting on, when the wedding is, did we have a theme or a vibe we're going for, had we picked out flowers yet, had I picked my dress yet, and so on. It felt very natural, especially as someone who regularly talks about weddings given my job in Confetti, but based on what we'd discussed, she pulled out some of the most popular bridal fragrances, plus a couple based on what she thought I might like from our chat. The six we started with were: Peony and Blush Suede (the most popular bridal scent), English Pear and Freesia, Nectarine Blossom and Honey, Blackberry and Bay, Mimosa and Cardamom, and Wood Sage and Sea Salt.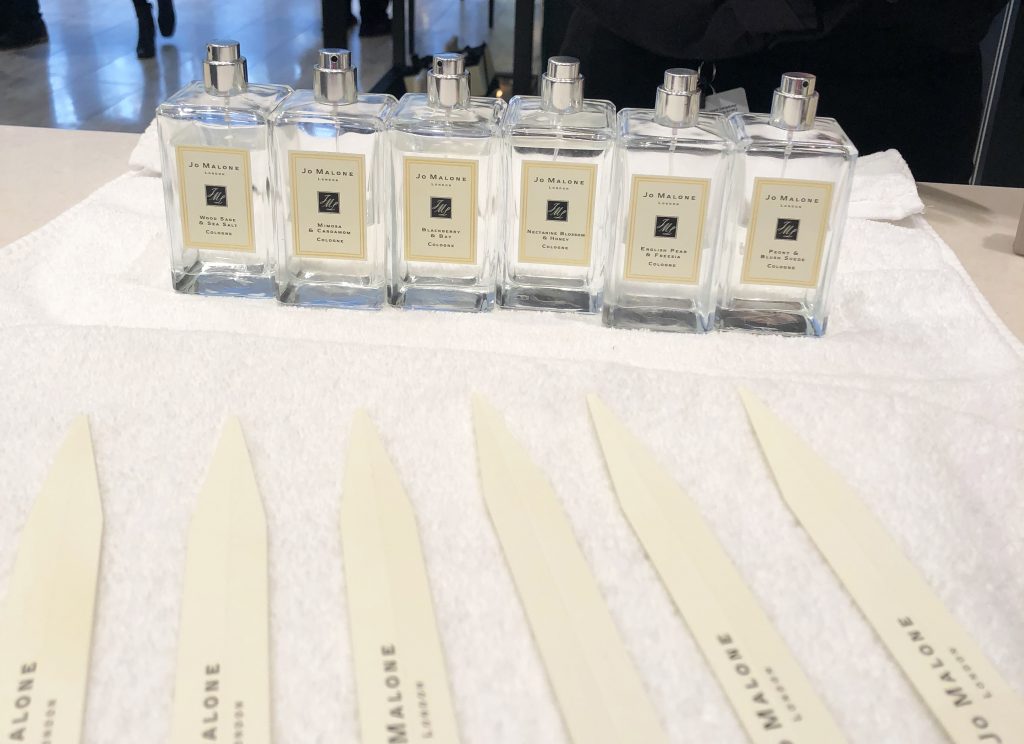 I was worried before I went in that I wouldn't know enough about scent undertones, or that everything would begin to smell the same very quickly, but each of the scents Kirstie tested for me on fragrance tester sticks were so different that the latter wasn't a problem, and she talked me expertly through all the various notes so I wasn't expected to know anything more than whether or not I liked them when I smelled them.
Though I liked the ever popular Peony and Blush Suede, it felt very grown up for me, so I discarded it initially. Mimosa and Cardamom was my favourite of the six scents we tried, and then Kirstie asked if there were any scents I particularly liked myself from the Jo Malone range.
I'd been lusting after the whole English Fields collection, a new limited edition collection released in February, but particularly the Primrose and Rye, and Poppy and Barley scents from the range. While these will only be available until they sell out, Kirstie said there was no harm adding them into the mix as no matter what scents I ended up choosing, I'd hopefully be holding onto it until the wedding either way.
Using the fragrance tester sticks, we tried my two ultimate favourites on the counter today – Mimosa and Cardamom with English Fields Primrose and Rye, but much as I liked them separately, layered they were just too strong for me. We swapped out the Mimosa and Cardamom for Peony and Blush Suede – with some trepidation on my part as like I say, I hadn't loved it earlier – but Kirstie convinced me that it would level out better than the Mimosa and Cardamom had with the Primrose scent. On another set of the sticks, we tried the English Pear and Freesia with English Fields Poppy and Barley. Once we had found my two favourite scent combinations, it was time to try them on the skin, where, unbeknownst to me, they can smell very different than on paper, having mixed with your body's oils etc.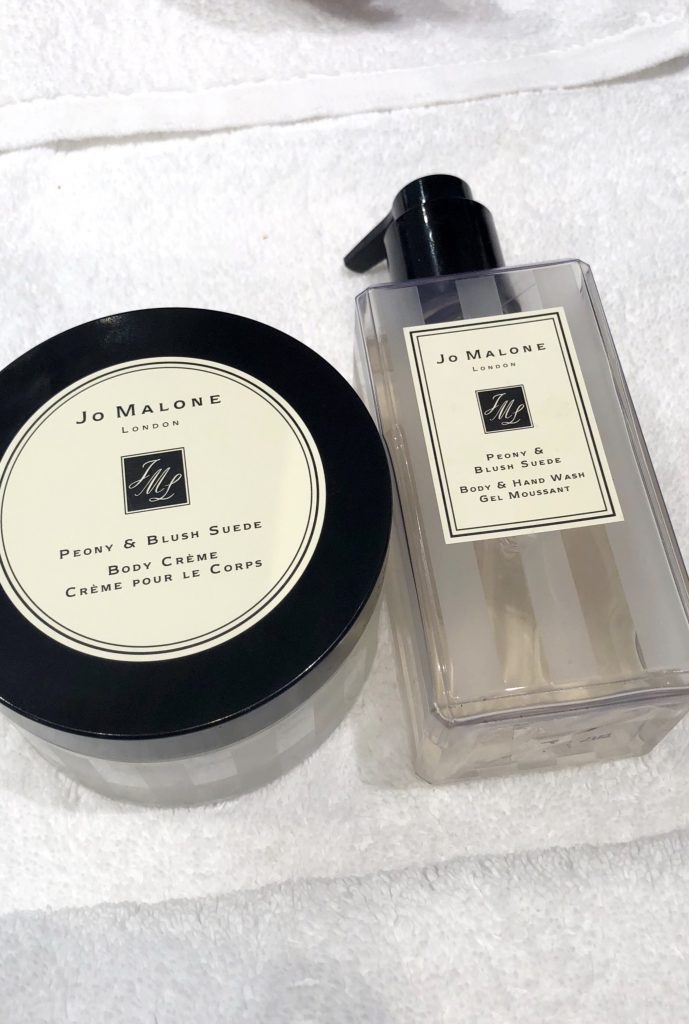 Up until that point we had been using the fragrances themselves, but the fragrance combination on the skin is a little more complex than simply spraying both scents. The English Fields scents only come in fragrance form, but that wasn't going to hold us back as they were my preferred scents in both combos. Kirstie explained that Jo Malone's body washes have a more subtle but longer lasting scent, while their body crèmes are more intense and crucially are not oil-based (like their lotions). This gives you some control over the various levels of fragrance you get coming through.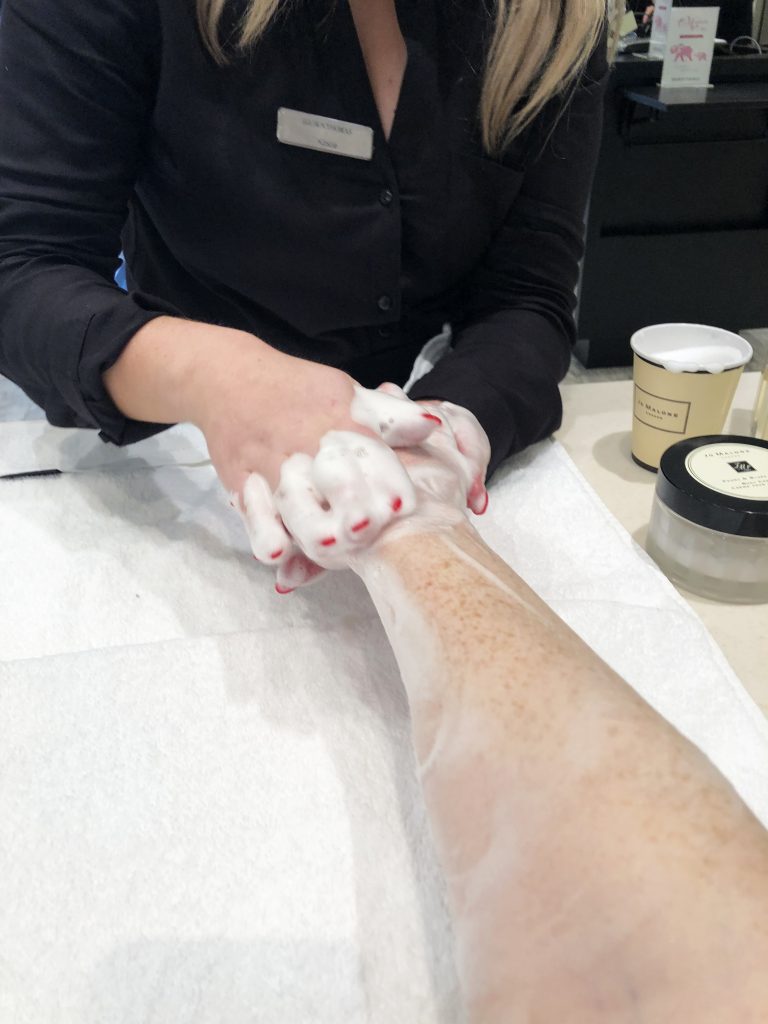 She cleansed with the Peony and Blush Suede, and the English Pear and Freesia body washes on each hand/arm respectively, and then followed it up by massaging in the matching body crèmes. Finally, she spritzed the relevant English Fields scent match we'd picked earlier over the top and patted it in gently, which helps lock the scent into the skin. For the actual wedding day, she recommended spraying my front and back, as it will make the difference when walking up and down the aisle, with the backs of the knees being an unexpected perfume spritz spot not to miss on such a big occasion! To add an extra layer of fragrance to your scent routine on the morning of, you could also scent your towel after your shower in your fragrance, so as not to loose any scent while drying!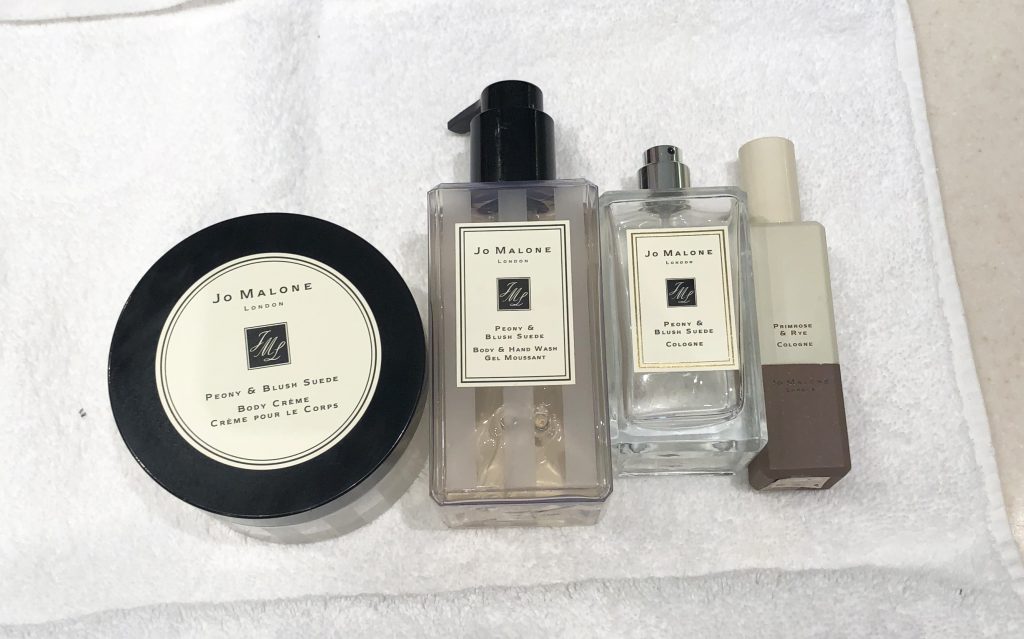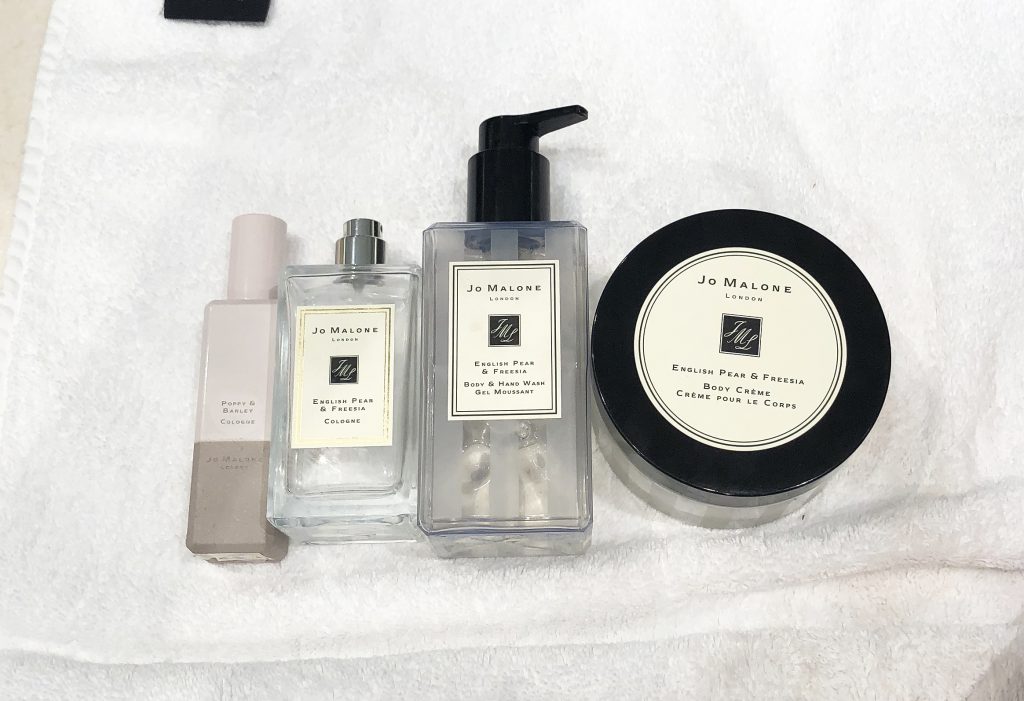 I loved both scents, but ultimately the Primrose and Rye fragrance paired with the Peony and Blush Suede body products felt more right for my wedding, and I chose it as my ultimate winner. The Peony scent under the Primrose one gave it a little more depth and intensity, and made it a little more unique for the big day, even if at the beginning I couldn't have imagined myself picking a Peony scent at all.
I didn't feel any pressure to purchase the whole little lot of products on the spot. Because I had been a little torn at first between the two scent combos on my arm, Kirstie suggested I not buy anything, go away and see how they sunk in and changed throughout the day, and if I still preferred the same arm by the end of the day.
I ended up picking up both English Fields fragrances while I was there, as they are limited edition (and I justified buying the Poppy scent so I wouldn't be tempted to use the Primrose one before the wedding – totally reasonable!) but as the body products are part of the permanent range, I could easily pick them up closer to the wedding – though by the end of the evening my original choice was still the clear winner. Kirstie very sweetly threw in a sample of another fragrance, English Oak and Hazelnut, which I loved but had previously owned a bottle of, so didn't feel special enough for the big day, along with some sugared almonds as a nice, wedding-related gift.
I initially wasn't sure of the necessity of fragrance combining, but I would happily recommend the wedding consultation service to any couple. It's obviously a very personal experience so it would depend on your own preferences and how well the staff member you dealt with got the vibe and tone of your wedding and tastes, but Kirstie just seemed to understand where I was coming from immediately, and was easily able to recommend scents and combinations I liked, even if they weren't the ones I expected to like or want, or ones I thought might go together. And, if nothing else, it's a lovely little pampering session if you're feeling a little overwhelmed by wedding planning stress – a nice reminder than amidst all the lists and spreadsheets, this is supposed to be fun!