We know finding the right wedding makeup artist can be a struggle, you want to find someone you trust to provide you with flawless, long-lasting makeup. Bearing this in mind, we've done a bit of legwork for you and rounded up the fab four!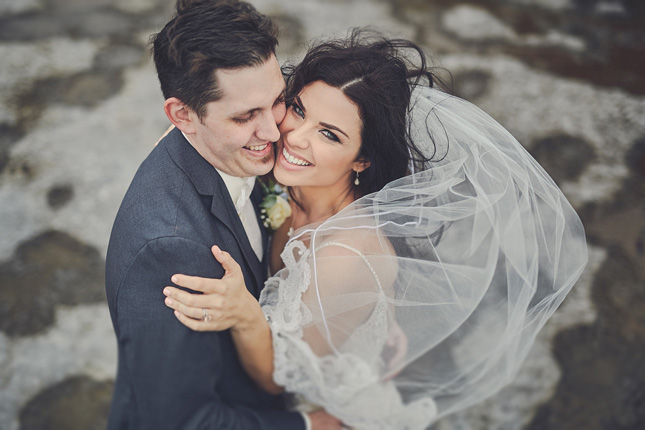 Image above: DK Photo
1. Lisa Doyle Makeup Artist
The look: "This picture is a perfect reflection on how I feel when my bride is completely happy with her makeup! When I apply makeup it's to simply enhance her inner beauty and to make her look and feel like a beautiful version of herself. I love this photo because it's timeless, her look is one that I'm very proud of."
My style: "I would say it's very classic and timeless. I want my bride to be able to look back at her pictures in 30 years time and still love them. My main focus on my bride is skin prep - any of my clients can tell you that I spend at least five minutes preparing the skin for makeup application. This is the key to flawless makeup and completely wraps up my style and vision of a perfect bridal makeup look."
My work in three words: "Classic, elegant and sophisticated."
My hero product: "This is hard because I love all my products, but the one I love to use most is Mac Cosmetics' lipstick in 'Blankety' - it's the perfect nude lipstick and I'd usually pair it with Mac 'Stripdown' lip pencil to give the perfect pout. Around 90% of my brides love this lip colour, it fits in perfectly with my overall bridal look and again it's just a staple product in anyone's makeup bag."
T: 087 212 5866
Facebook | Twitter | Instagram | Snapchat: makeupbylisa

Image above: Kat Mervyn
2. Jennifer Ireland Makeup
The look: "This makeup stands out for me as it perfectly complemented the brides' overall boho style - dewy polished skin, peachy contoured cheeks, softly sculpted eyes and a slick of pinky nude lipstick. She looks effortlessly beautiful and everything works together."
My style: "I'd describe my style as natural glamour. I'm a fan of less is more, and think working with your natural tones and using makeup with built-in skincare will make a bride look her most beautiful. Soft definition and enhancing natural features is always the most flattering way to achieve a healthy and glowing complexion."
My work in three words: "Fresh, soft, contemporary."
My hero product: "I absolutely love Hourglass' Ambient Lighting Powder in 'Radiant' - it's a silky smooth lightweight compact powder that gives you the most subtle golden radiance to the skin. I sometimes use it on it's own, or dip and dab it with another product - it's the perfect balance of highlight and bronze with a silky satin finish."
T: +44 (0) 7880 966 574
W: jenniferirelandmakeup.co.uk
Facebook | Twitter | Instagram | Pinterest

3. Maureen Dorney
The look: "I love this piece of work, because the bride Danielle, is so radiant that you don't even notice anything else in the picture, at first glance. The makeup complements her own beauty and is classic, so the photo will be forever beautiful!"
My style: "With 11 years experience, my personal style is to allow the bride to be herself, but a polished, beautiful version of herself!"
My work in three words: "Timeless, glowing and supermodel-y...that's a word right?"
My hero product: "I can't pick one! My two bridal makeup heroes are Charlotte Tilbury's Magic Cream, at €90 a pop it's by no means cheap, but it transforms the skin to allow me achieve perfection. And secondly, highlighter - is a bride really a bride without a little bit of highlighter? Who doesn't love a beaming, glowing bride and that's what I'm all about!"
T: 087 922 1432
Facebook | Instagram | Snapchat: Mazymoomoooooo

Image above: Awake and Dreaming Weddings
4. Brenda Wall
The look: We love how Brenda paired this subtle, soft smoky eye with a strong, winged liner. We're all about natural-looking wedding makeup here at Confetti, and we absolutely adore this look.
Brenda's work in three words: Elegant, soft and contemporary.
About Brenda: Brenda has worked in the beauty industry for the past ten years. She began her studies in Foxhall Beauty College in Limerick and worked as a beauty therapist, before deciding to follow her true passion; Makeup Artistry. Due to her ability to provide every aspect of bridal beauty – lashes extensions,  brows, hair and makeup – Brenda is much in demand for weddings, both in Ireland and overseas.
T: 087 694 2464