What would Meghan do? We go deep to discover hair, makeup and skincare insights fit for royalty. Take note, future brides!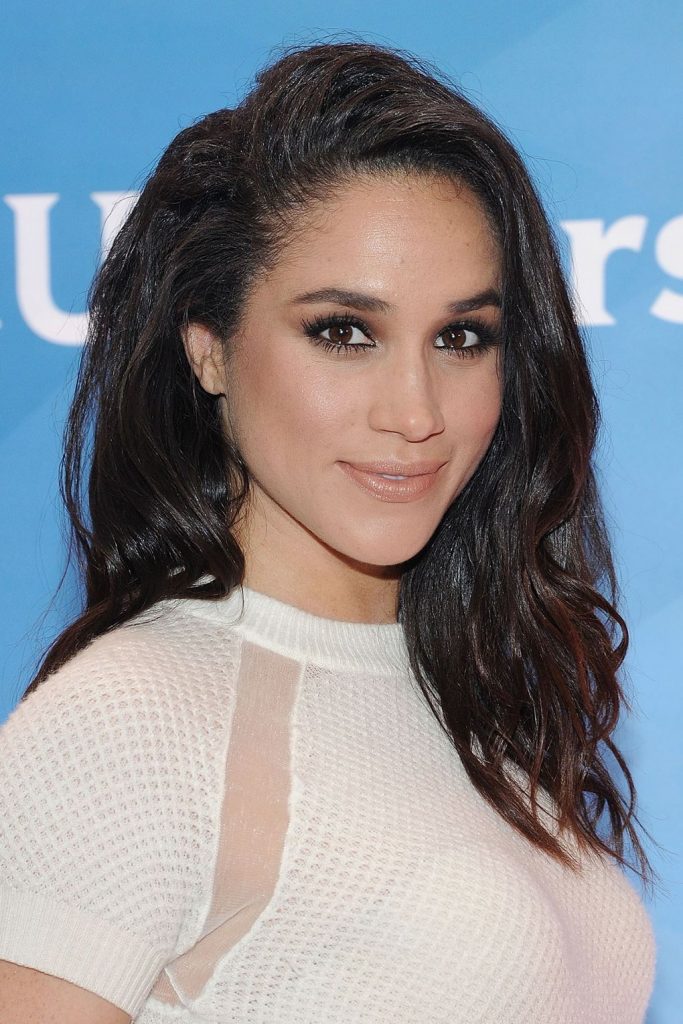 As the royal wedding approaches, all eyes are on Meghan Markle. Just when we thought the beautiful, talented and seemingly super sound Suits actor couldn't be more of an aspirational figure, she's about to become a bona fide princess to boot – the obsession grows. If you're getting hitched this summer too, you'd be forgiven for wanting to capture a bit of Markle magic, and we're here to help. Her new royalty credentials mean she's less inclined now to speak publicly about such frivolities as makeup and skincare of course, but we've combed through her interview back catalogue to dissect her regimes and bring you the full, unabridged lowdown on her skincare, makeup and hair habits. Let's go…
LONG LIVE THE SKIN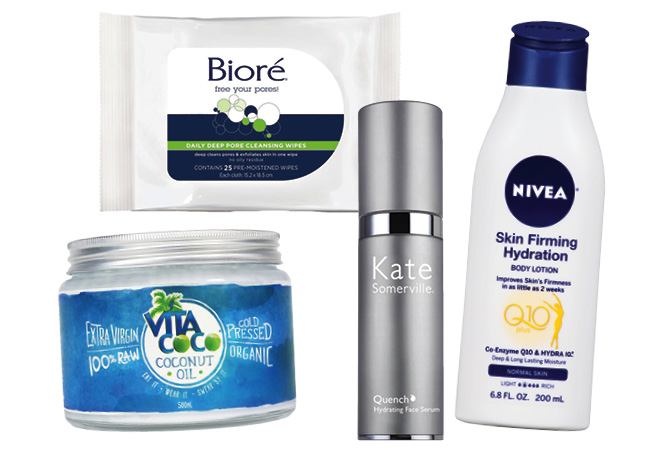 First up, let's ace that base. Meghan has a world famous facialist (of course she does), but you can take her advice for free thanks to a recent interview with the celebrity skin guru, Nichola Joss in The Sun newspaper. Much in demand amongst A-listers on both sides of the Atlantic, Meghan says: "There's a reason she's in high demand around awards season when every actress wants to look A-plus." Nichola's advice to brides is two-pronged.
"Firstly, don't go crazy as the run up to the wedding nears. Avoid harsher treatments that promise to banish wrinkles and lines. Anything corrective, like acid peels, intense microdermabrasion, or laser treatments, should be done between three to five months before the wedding, but not closer. The last two months before your wedding should be focused on getting calmer, more hydrated skin, rather than getting more aggressive with your face, since corrective treatments can require a ton of downtime and healing."
Instead, she recommends products with hydrating hyaluronic acid, brightening vitamin C, and healing vitamin E. Her second top tip is to massage your face regularly, both at home and at the salon. "You want to start getting regular massages from the beginning of your skincare journey, since it not only helps remove the tension in the face, but it also really helps improve the texture when you massage with a good, clean facial oil." A practice Meghan has embraced, saying: "I regularly do facial exercises, I swear it works, as silly as you may feel," she told birchbox.com. "On the days I do it, my cheekbones and jawline are way more sculpted."
So what products does Meghan swear by to keep her olive toned skin looking so radiant and clear? "Kate Somerville Quench (around €90, coming soon to Space NK). I've been going to Kate's clinic in LA for facials for years, and I still use the products to maintain that glow that her facials give," she told beautybanter.com. Next up, Lord help us, is a facial wipe! She admitted to the same interviewer that Bioré Cleansing Cloths are "great to keep in the car and on your nightstand, when you have those horribly lazy nights that the thought of getting up to actually wash your face seems unbearable."
She proved her low maintenance credentials further telling Hello magazine that she uses coconut oil "for pretty much everything. I'll happily use it for skin and hair – and to cook with." Another affordable fave is her body cream of choice, Nivea Skin Firming Hydration Body Lotion. "I use this religiously. It's honestly my favourite lotion on the market, it's so affordable, and makes my skin look and feel amazing. I would buy a case of this at a time if I could find it."
BEAUTY QUEEN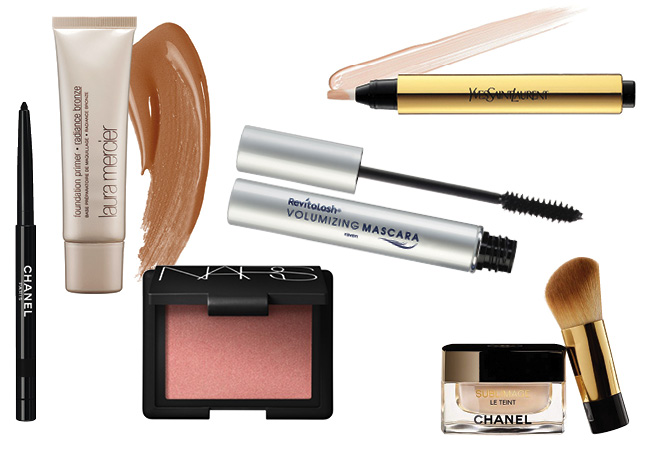 Meghan keeps her makeup pretty simple, preferring to enhance, rather than conceal. To amplify her already glowing skin, she starts with Laura Mericer's Radiance Foundation Primer (€41, brownthomas.com) over her moisturiser. On the set of Suits, she wore Chanel's Sublimage Le Teint Ultimate Radiance Generating Cream Foundation (€125, debenhams.ie) for some light coverage. "I never wanted to cover my freckles, so we'd just do a 'wash' of foundation in certain sections, instead of over the entire face," Meghan said in an interview with Birchbox.
Any further concealing is a job for Yves Saint Laurent's cult fave, Touche Éclat (€35, debenhams.ie). "It blends, it's compact and if you've worked a 17-hour day and have nothing else on, you will still look relatively alive. Relatively," the soon-to-be royal told Beauty Banter. For eyes, Meghan swears by the lash-boosting Revitalash Volumizing Mascara (€25, skinshop.ie). Since using this product, Meghan told Allure her lashes have become "as long as they could ever be."
She achieves her subtle smokey eye with Chanel's Style Yeux Waterfroof Long-lasting Eye Liner in Casis (€25, debenhams,ie), according to theladylovescouture.com. A finishing touch is always Nars' bestselling blush in the shade Orgasm (€32, brownthomas.com). She told Beauty Banter it gives her "a perfect rosy flush tone that brightens the face."
 CROWNING GLORY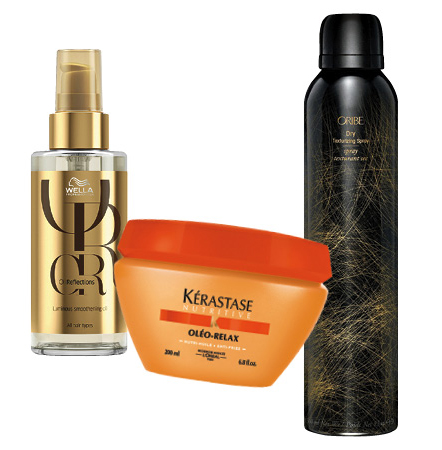 Meghan doles out generous portions of hair envy wherever she goes. Her naturally thick, silky hair means she doesn't have to do too much to keep it in great shape, but there are some products she can't live without. "There are two lines I use religiously: Kérastase and Wella." For smooth, nourished strands she swears by Kérastase Nutritive Oleo-Relax Anti- Frizz Masque (€55, fruugo.ie) and said: "I am obsessed with Wella's Oil Refl ections Luminous Smoothing Oil (€14.95). It smells like a vacation and makes your hair slippery and touchable. I love this stuff !"
If you, much like ourselves have total hair envy when it comes to Meghan's luscious locks, Paul Hession of Hession Hairdressing (hessionhairdressing.com) has a few tips. "To grow your hair long like Meghan's, we recommend getting regular hair treatments. Introduce vitamins such as B6, which are great for hair growth and any other keratin based products." And when it comes to that super glossy shine, Paul says: "Meghan's natural glossy look has been achieved by keeping a dark, natural brown framing her face and softly-toned caramel babylights introduced through her mid-lengths to create a sun-kissed look. Use a glossy colour bomb regularly to top up your colour." We're trying that, stat!