From the best cleansers and oils to the must-have mask you need to use overnight, we're listing some recent skincare loves of ours...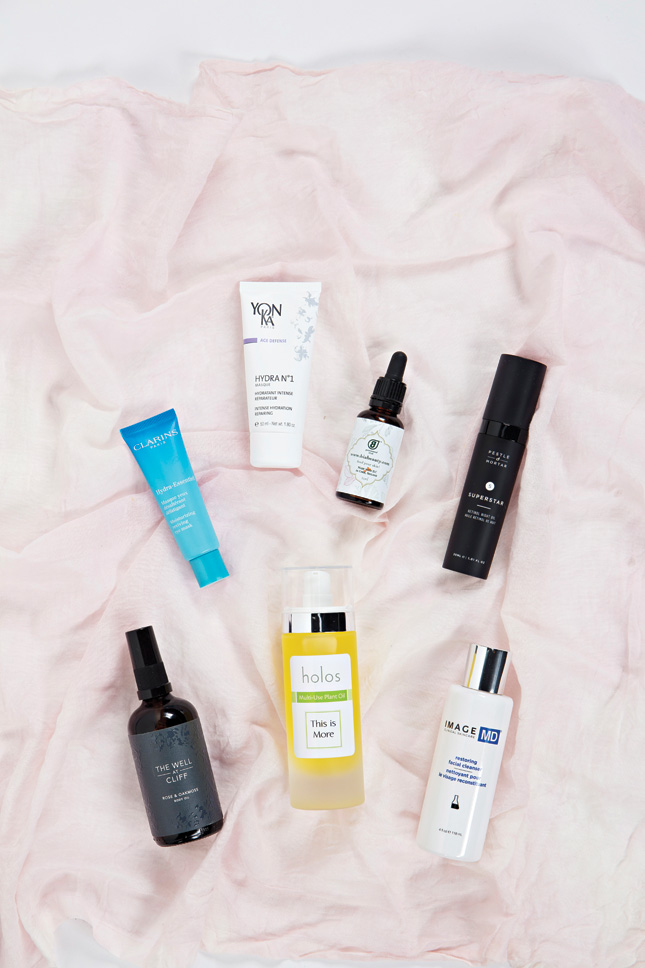 The Professional Cleanser
While we don't think skincare requires grueling a ten-step regime, a double cleanse is often vital. Once you've removed your makeup (we love Declare Cleansing Powder, €24.50, meagherspharmacy.ie), it's time for a deep cleanse. This step forms such a key part of your skincare, so it's worth getting a one-off consultation to establish what the best product for your particular set of needs is. Places like Monica Tolan (monicatolan.com), The Skin Nerd (theskinnerd.com) and Skinsation (skinsation.ie) will provide a thorough analysis of what's needed and recommend the correct product for your skin type and condition.
Doing this up to a year before your wedding will set you on the right course from the off and could be the best thing you do to prepare, beauty-wise. We're big fans of Image MD Restoring Facial Cleanser( €36, Image salons). It contains glycolic, lactic and salicylic acid to gently exfoliate and increase cellular turnover, but speak to your aesthetician about what will suit you best.
The Facial Oil
Introducing an oil is a great step, and not just for dry skinned bridies. A great, nourishing oil isn't just about locking moisture in, it'll also feed the skin with anti-oxidants and essential fatty acids. Worn at night, it'll repair and soothe the skin as you sleep. We love Irish company Bia Beauty's Pure Nutrition Facial Oil (€32.95, biabeauty.com).
The Mask
Used a couple of times a week, a hydrating mask will keep skin supple and moisturised, particularly during harsh weather periods. Busy brides-to-be will love YonKa Hydra No.1 Masque (€47.50, Yonka salons) as you can apply it before bed and leave it on overnight.
The Eye Mask
If your regular mask is a little heavy for the eye area, Clarins have you covered. Their new Hydra-Essentiel Moisturizing Reviving Eye Mask (€33, Clarins counters) is cooling and soothing and gentle enough for the delicate skin in that area. Apply a generous layer and leave it on for ten minutes, or use more sparingly overnight.
The Retinol Product
Introducing retinol into your regime can make a real, visible difference to the skin. The vitamin derivative speeds up cell turnover, ridding the surface of dead cells. A gentle approach is best, as the uninitiated skin can suffer peeling and flaking when retinol is first introduced.
Pestle & Mortar Superstar Retinol Night Oil (€76, arnotts.ie) is Irish-made, non-irritating and cruelty-free.
The Multipurpose Wonder
Another Irish product worth your shekels comes from natural skincare brand Holos. This Is More Multi-Use Plant Oil (€39.99, holos.ie) is a multipurpose product that can be used as a facial cleansing oil, a body oil, on nails and cuticles, as a massage oil and even a beard oil. Containing coconut, almond and rosehip oils as well as juniper and line, it's nourishing and smells delicious. And, like everything else from the brand, it's total natural and contains no nasties.
The Body Oil
From the brand new The Well at Cliff line of gorgeous spa products, the Rose & Oakmoss Body Oil (€36, cliffgifts.com) is our standout offering. Containing rose and lavender to comfort and soothe and peat moss to nurture the skin with vitamins and minerals, it'll relax the mind whilst moisturizing the skin. Much like a proper spa experience at home. All products in the range are used at and available from The Well in the Garden at Cliff at Lyons and The Well by the Sea at Cliff House Hotel or online.