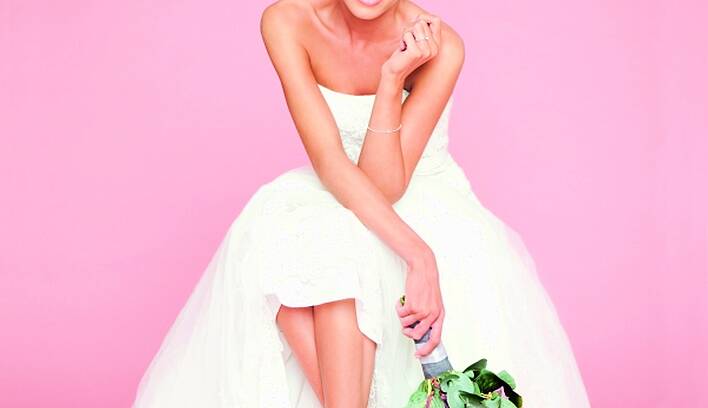 Our newest cover girl, recently-married model Aoife Cogan, adorns the front of our (biggest ever) spring issue of Confetti Magazine. We think it's a pinch of pretty, pink perfection and hope you love it too! Keep reading to find out how you can recreate Aoife's look and find out her must-have beauty favourites.
Aoife's peachy-toned lipstick is set to be the season's hottest shade – try Mac 'Shy Girl', €18.50. It's the perfect shade for spring/summer brides.

Some individual lash extensions (try Eylure) or a set of feathery falsies set off the look and will really make your eyes appear bigger and bolder.

If you're not lucky enough to have Aoife's olive toned skin, you can always fake it. Fair toned lovelies beware! Ask your therapist for the lightest shade possible and go for onlyone light coat. If you're DIYing it, try Fake Bake Fair.
Here's how to create the stunning bridal look that features on the cover of the current Confetti Magazine;
AOIFE'S TOP TIPS FOR WEDDING DAY WONDERFUL
When we managed to steal a few moments with Aoife in between shots we couldn't resist asking her to share her model secrets on how to pose on your big day.
"The day is all about you and your husband, so do whatever feels natural to you both. Hug, kiss, hold hands and most importantly, relax. People think it's all about the hand-on-the-hip type stuff, but you should do whatever feels comfortable. The last thing you want is to get your photographs back and to feel like you weren't yourself in them. Relax your shoulders and smile!" Aoife reveals.
So how does Aoife manage to stay so picture-perfect?
"Keep skin super clean by cleansing twice a day. Skin needs to be hydrated at all times. Drink lots of water and use a high factor sunscreen on your face every day. Exposing your skin to the elements will result in skin ageing quicker."
Keep scrolling to find out which five beauty products Aoife can't live without.
1. Cetaphil moisturiser for its fragrance free emollients and humectants.
2. Kohl Foundation by Brown Sugar.
3. Pure vitamin E oil for use around the eyes and crows feet.
4. Ceralip by La Roche-Posay for moisturised lips.
5. L'Oreal Kerastase hair mask. Available from Brown Sugar.
Got any of those beauty faves in your bathroom? Leave us a comment and let us know!