Choosing a wedding fragrance has been a huge trend in recent years, and there are iconic wedding perfumes for brides and for grooms. Now, how to choose?
Choosing a wedding perfume might be the last thing you might think of on a long, long to do list when it comes to wedding planning. But, we love the wedding fragrance trend, and not just because it's lovely to pick a new perfume.
While your go-to scent is probably a great option for your wedding day - we always say you should feel like your best self on your wedding day! - a brand new scent, chosen specifically for your wedding day, has a little bit of magic to it.
And it's not just a nice thought, there's science to back it up. Scent is connected to your limbic brain, which in regular talk, means your brain basically creates a 'smell memory' that can last forever. That means every time you smell it again, it will remind you of the day you wore it. This is the reason many people keep their wedding perfume up just for use on special occasions like anniversaries. You obviously lose some of that memory association if you choose to wear it every day after, so if you're saving it, make sure to keep it in a dark box, in a press/wardrobe, as leaving it out can cause the scent to wear off or change.
So how do you go about choosing the perfect wedding perfume?
Well, first things first, don't go reinventing the wheel. Just because this is your wedding perfume, doesn't mean it has to be the complete opposite to what you regularly wear. Choose something in the same fragrance family to your usual choice - ie if you normally like a floral scent, choose a floral scent, or if a more woody scent is your bag, go woody, etc. Find a new one that sits in your fragrance family, and if budget allows, make it a special choice you wouldn't ordinarily buy for yourself.
Given how long a wedding day typically is, it's worth looking for a perfume that has a higher oil than water content, as they typically last longer and are easily activated by movement. An Eau de Parfum or a fragrance oil will usually stand to you longer than an Eau de Toilette, so bear that in mind if your chosen scent comes in multiple formulas. And don't just spray your wrists - spray at your ankles, behind your knees, in between your thighs, in the crook of your elbow, and at your pulse points: the wrists, the cleavage and the nape of the neck. All before you step into your dress, of course.
Iconic wedding perfumes for both brides and grooms
Wedding perfumes for grooms have been more slowly accepted, but more and more grooms are now looking for their own special fragrance, and we are here for it! We love the idea - assuming you both love the scents - of a couple's wedding perfumes sharing some connection, so we've paired up some gorgeous wedding perfumes for brides and grooms. And if you're a sex same couple, perhaps agreeing on a single scent would be a sweet way to approach choosing your wedding fragrance, so you both have those lovely scent memories.
With a number of scents in this mix being more unisex, don't feel trapped into the masculine or feminine perfume if it's not the scent you prefer, either - this is supposed to be the dream fragrance for you! If you both have entirely different tastes when it comes to scents, that's not to say you're stuck with any of these pairings, either. All of these are iconic, special and perfect wedding perfumes so if mixing and matching works for you, spritz away, we say!
* indicates unisex fragrances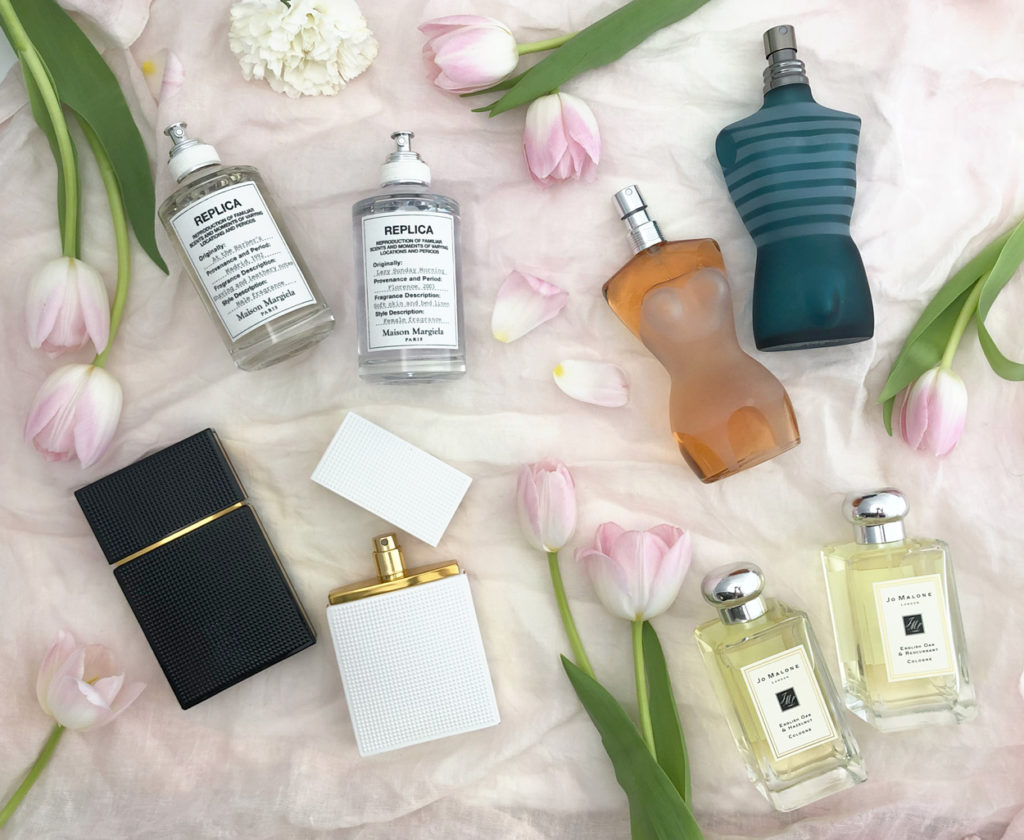 Scents from left to right, clockwise:
Replica by Maison Margiela
*At the Barber's: A fresh scent with tonka beans, white musk, black pepper, rosemary, lavender and basil accord, perfectly balancing aromatic and woody notes.
Lazy Sunday Morning: A smooth, floral fragrance with delicate notes of creamy white musk and lily of the valley.
Jean Paul Gaultier
Classique: A sweet, floral, bold fragrance with a feminine blend of rose, orange blossom and vanilla, with a base note of white amber.
Le Male: A strong, fresh fragrance with notes of mint, lavender, vanilla, leaning to an oriental fragrance family.
Jo Malone
*English Oak and Redcurrant: A juicy, warm fragrance with the woody roasted oak basenote, opened by the redcurrant, and softened by the rose heart and white musk.
*English Oak and Hazelnut: A woody, spicy fragrance, with roasted oak and cedarwood as the base and heart notes, with top notes of green hazelnut bringing some freshness to the scent.
Elizabeth and James
Nirvana White: A floral, feminine scent, this is a soft fragrance with delicate notes of peony, chic muguet and musk.
*Nirvana Black: A bold fragrance blending notes of violet, sandalwood and rich vanilla.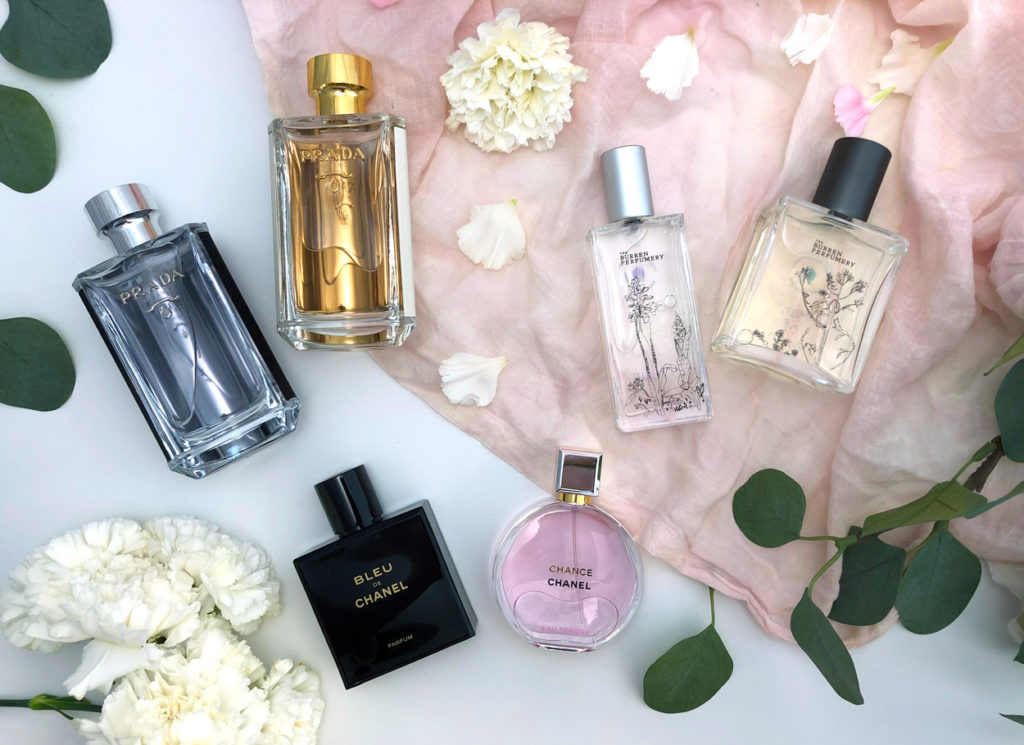 Scents from left to right, clockwise:
Prada
L'Homme: An airy scent combining classic Prada ingredients, amber and iris. Notes of neroli, geranium and patchouli complement.
La Femme: A sultry, floral fragrance with notes of frangipani interwoven with the spice of Ylang-Ylang, smoothened out by beeswax, vanilla and tuberose.
The Burren Perfumery
Ilaun: A fresh light perfume. The top notes of the wild fragrant orchid blend with the woody base notes of ferns, lichens and mosses.
*Man of Aran: A modern fresh sea cologne with a citrus top note and woody base notes of the mosses, lichens and barks of the Burren.
Chanel
Chance Eau Tendre: A more tender interpretation of Chanel's Chance, this is a delicate, floral-fruity fragrance with intense notes of jasmine absolute and rose essence.
Bleu de Chanel: An aromatic-woody fragrance that unites fresh citrus scents with woody dry cedar notes, warmed by new Caledonian Sandalwood notes.