With heating switches being simultaneously flicked across the country as the temperatures dropped over the last few weeks, we've already seen the difference in our skin. Dull, dry skin and chapped lips aren't a good look for your wedding day, so we thought we'd pull together some of our skincare hero products for the colder months that will keep even the driest skin looking glowy and gorgeous.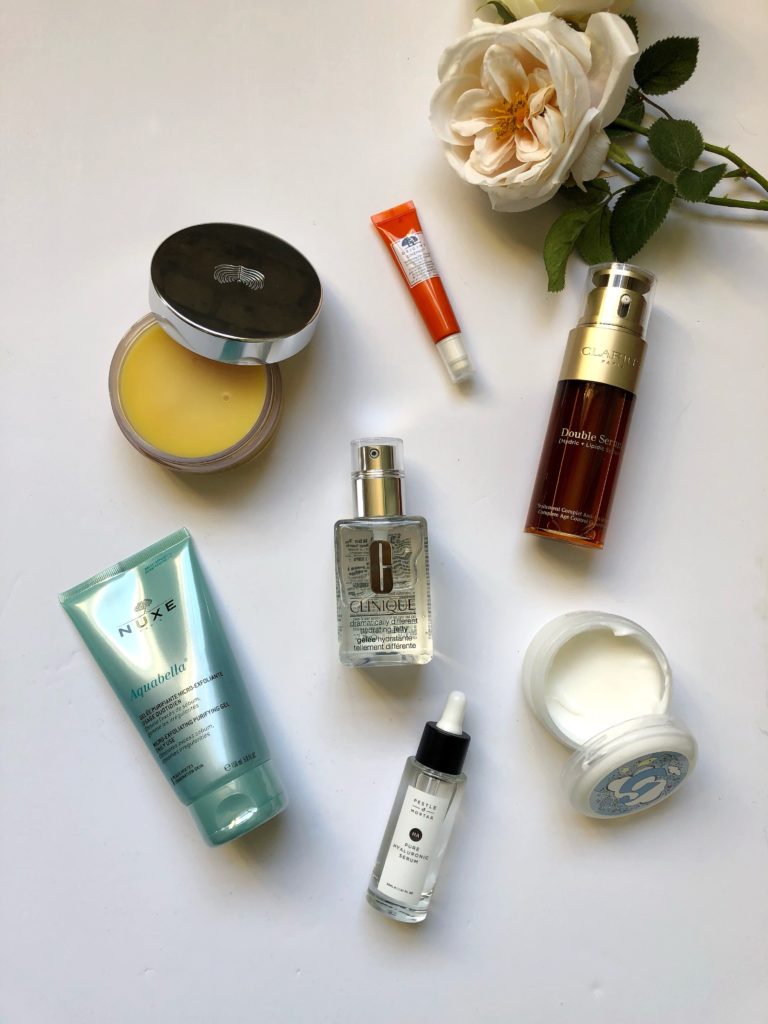 The cleanser: Elemis Pro-Collagen Cleansing Balm
Sure, most of us think of cleansing as a process to remove makeup, but a good cleanser can do a whole lot more for your skin than just remove layers of grime. Oil and balm cleansers are some of the most nourishing you can use, and this one, Elemis's Pro-Collagen Cleansing Balm is an amazing example. Packed with rose and mimosa waxes, elderberry, starflower, lavender, eucalyptus, geranium and Optimega™ oils, and anti-aging algae, it smells like a spa from the second you open the box and feels incredible on the skin.
Warm it up in your palms before massaging over your face in circular movements. Dampen your fingertips and continue massaging it in, and remove with a warm, damp cleansing cloth. Not only will it take off all your makeup, but your skin almost feels renewed afterwards because of how deeply moisturising and hydrating it is. If you want to double-down on the deep cleansing, you can use it as a mark by leaving it on for ten minutes before removing.
€56.50, Debenhams
Skin types: all
The eye treatment: Origins GinZing Refreshing Eye Cream
This one's actually a goodie all year around, but the new on-the-go packaging makes it perfect for a wedding day. Getting to sleep in the days and weeks leading up to your wedding is the same as trying to sleep before Christmas as a child, but looking tired is not ideal on the day. The Origins GinZing Refreshing Eye Cream is a cult favourite for waking up tired skin, and they've just released it in a travel-friendly tube with a precise sponge applicator for targeted touch ups.
It's packed with antioxidants as well as a potent blend of Panax Ginseng, coffee beans and magnolia extract, all of which do trojan work to soothe puffiness and reduce any undereye bags. There's some natural optic brighteners in there as well, to help brighten from the outside as well as through the GinZing. Hello, glow!
€23, Arnotts
Skin types: all
The serum: Clarins Double Serum
A long standing skincare hero for many people, Clarins Double Serum has recently had a makeover but it's still a bottled miracle worker. It's whole aim is to give you a more youthful and radiant complexion, with 21 active plant extracts. Ingredient of the moment, turmeric has been added to the new formulation as a star ingredient because of its anti-ageing properties, and because it optimises the five vital functions of the skin.
Basically it's a super antioxidant serum that helps your skin fight nastiness that cause ageing, dehydration, and wrinkles, leaving your skin plump, smooth and firm. You use it morning and evening - apply to clean, cleansed skin before your usual moisturiser. It's a product that will just slot right into your regime without too much fuss, making it a winner in our book.
€72, Boots
Skin types: all
The exfoliator: Nuxe Aquabella Micro-Exfoliating Purifying Gel 
If you find exfoliators a little harsh or drying, the Nuxe Aquabella Micro-Exfoliating Purifying Gell may be the product you're looking for. A gentler formula, this is an exfoliator that can be added into your everyday skin routine without doing more harm than good to your skin.
The purifying gel formula has a deep-cleansing action without drying the skin, and active ingredients like white waterlily help remove excess sebum. The natural blur complex paired with the natural blue micro-beads help smooth away irregularities and resurface the skin, which leaves you with a flawless base from the get-go. Exactly what you want in the lead up to, and especially on, your wedding day.
While physical exfoliants have become less favourable due to their effect on the environment, the micro-beads in this gel are naturally occurring in plants, so are completely ocean safe. Their blue colour comes only from a natural colouring from Lazurite, a deep and intense blue mineral. Luminous skin with a conscience? We'll take it.
Use morning OR evening, on damp skin, avoiding the eye area, and rinse it off, before continuing with the rest of your routine.
Skin types: all
The moisturiser: Clinique Dramatically Different Hydrating Jelly
If you're the kind of person who is equally committed to their moisturiser as they are to their fiance, this probably won't change your mind. But if you're a person who hates moisturisers or just isn't into a faff, the new Hydrating Jelly formula of Clinique's Dramatically Different is basically made for you.
Clinique's yellow-hued Dramatically Different Lotion+ is one of their hero products, but this is a much leaner, more lightweight formulation. It's got the same feel and finish as a water-gel cream - cooling, dewy dry-down, and an oil-free formula that means it's not the least bit greasy. It's more of a one-stop shop if you're not fussed with a multiple step routine that involves serums and oils and acids applied in layers. The jelly formula contains moisturising heavy-hitters glycerin and hyaluronic acid, as well as a barrier-protecting blend of barley and cucumber extracts that helps improve skin's resilience and balance and retain moisture.
It feels fresh when applied, penetrates quickly, drying much more quickly than a richer moisturising cream, but without sacrificing on moisture levels, leaving you with smooth, strong and healthy skin. Use morning and evening for best effects.
€42, Boots
Skin types: all, but particularly good for oilier skins
The acid: Pestle and Mortar Pure Hyaluronic Serum
All that being said, if you are a multi-step person, or just someone who has slightly trickier skin, or extremely dry, dehydrated skin, you may well want to call in the big guns. Pestle and Mortar's Pure Hyaluronic Serum is one of our favourite formulations of pure hyaluronic acid. Plus, they're Irish, which is always a nice bonus.
The Pestle and Mortar version combines multi-molecular weight hyaluronic acid, which penetrates the skin at different depths, each providing their own distinct benefit to your skin, which allows it tackle your particular skin difficulties a little more accurately. Hyaluronic isn't a moisturiser on its own - it's a naturally occurring carbohydrate in your body and as you get older, your natural levels of it drops, so using a hyaluronic acid helps restore those levels. This formulation has also got a skin-softening panthenol which helps reduce fine lines and wrinkles. It's super hydrating, restores dehydrated skin, and helps plump your skin, giving it a boost if it's been looking dull or tired.
A little of this goes a long way - the dropper applicator makes it easy to apply the recommended 2-4 drops of the product to your cleansed face, before you apply any other creams or serums. You can use it morning and evening for a more youthful look.
€43, Pestle and Mortar
Skin types: all, but particularly good for dry skin
The mask: Glossier Moisturising Moon Mask
A similar formulation to some higher end moisturising masks but at a great price point, Glossier's super-hydrating Moisturising Moon Mask is full of sweet almond oil, hyaluronic acid, plant-based squalene, liquorice root, lemon, honey and aloe, which work together to plump, brighten, hydrate and smooth your skin.
An unusual formulation, it feels less like a traditional mask and more like a cream, it absorbs quickly so you won't have much left to wash off after the allocated 20 minute period. If you're feeling particularly dry, leave it on overnight and let a thick layer sink in and do its work. Apply to clean, cleansed skin - this isn't a mask that's going to absorb through other products and is best to its own devices.
€22, Glossier
Skin types: all, but particularly good for dry or dehydrated skin